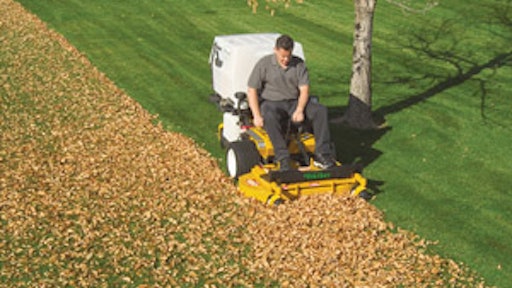 Handheld, backpack and push blowers are more powerful than ever, enabling contractors to more quickly clear properties of even the most stubborn leaves and debris. Still, a well-designed mower-mounted debris-removal implement can prove to be a worthy investment, especially on larger properties where some serious cleanup is required.
The main reason is the potential labor savings. For instance, Ruthanne Stucky, marketing director for Grasshopper, says one operator running a Grasshopper zero-turn mower with a mounted Buffalo Turbine Blower can clear as much area as four operators with backpack blowers—in a quarter of the time. "It won't take many jobs like this to pay for the blower," Stucky says.
Similarly, using a vac collection system such as the Grasshopper PowerVac, in conjunction with the mowing deck, clears both leaves and grass clippings in one step. "This not only saves time, but also fuel," Stucky points out.
The proof, however, is in the performance. And a poorly designed vac system, blower or other debris-collection tool could be more trouble than it's worth, causing additional employee downtime and mower wear and tear.
Lean and mean, and made to clean
In regards to a vac collection system, which several commercial mower manufacturers now offer, it's a good idea to quiz your dealer on what makes his brand suited to the task of debris cleanup. Units that are prone to clogging, big and clumsy or a challenge to empty will not help you meet your objective of being more productive.
Tim Cromley, Walker Mfg.'s marketing manager, says the Walker GHS (grass-handling system) is an integral part of the Walker mower design. "Built from the inside out, there are no bulky tubes or blowers sticking out of the side," Cromley explains. "This makes for a compact design, which helps the landscaper maintain mobility and maximize productivity."
Stucky says a vac collection system that's powered by the mower's deck can be an important distinguishing feature. "This way, you avoid having an extra engine to service and fuel," she explains. "Select a system that easily converts between collection and discharge mowing to maintain flexibility in your mowing operation."
Debbie Crum of Trac Vac offers a counterpoint. "It's helpful when the deck and vacuum are independent," Crum says. "A vacuum system that's powered by the mower engine limits its use to full engine speed and full deck speed. Plus, driving the vacuum from the mower can reduce mower engine life, which is probably more costly to rebuild or replace than an auxiliary engine, such as the 6.5-hp Briggs Intek found on our Model 655 collection system."
Either way, ask your dealer how the vac collection system is designed to work with the mower deck to leave a clean, finished appearance on the lawn. "Our GHS decks are specifically built to handle grass and debris," Cromley points out. "It comes from literally hundreds of design adaptations that balance airflow and cutting quality. One unique feature is that the blades on a GHS deck counter-rotate toward the center, so the material discharges at the rear-center of the deck."
Won't choke when it's crunch time
You also want a vac system that will be hard to clog. Large-diameter intake hoses are helpful. Stucky says it's also important for a catching system to create powerful vacuum action, but not a lot of turbulence.
"Air volume and air speed are important factors," says Linda Beattie, commercial public relations for Commercial Grounds Care Inc. (CGC), maker of the Bunton and BOB-CAT brands of commercial mowers. "You have to look at them together to determine the level of performance. A catcher with high air speed and low volume may have a tendency to plug under many conditions. Also, look for a catcher that has the least amount of turns or bends in the hoses and blower housing."
"A good vac system will be effective in a wide variety of conditions, including high-moisture so you can finish picking up leaves after the early snow thaws, or go out early in the morning when there's dew on the ground," Stucky adds.
Several manufacturers offer other design innovations that facilitate airflow, which, in turn, reduce the likelihood of clogging.
For example, Wright Mfg.'s Turbo 10 Grass Gobbler is a high-capacity catching system designed to fit all Wright Stander, Sentar and Velke models. The Turbo 10's three intake venturis and perforated steel panels lift grass, leaves and debris away from the walls of the catcher. This increases velocity, resulting in much tighter packing of debris, while also eliminating the need for PTO fans and ductwork. Furthermore, the curved front of the Turbo 10 directs grass and debris to the back of the catcher, which also helps prevent clogging.
Packing a punch
Debris packing is another important feature of a good collection system. Obviously, the more leaves and clippings the hopper can hold, the fewer the number of stops you must make to unload.
Large-capacity, empty-from-the-seat hoppers are helpful. Design features that finely shred debris also make a difference. For instance, Scag's vertical blower design on its rear-mounted catching systems provides enhanced debris flow between the deck and hopper. Plus, the all-steel, balanced blower blades help shred the leaves and clippings for tight debris packing.
Getting rid of clippings should be relatively easy—as should mounting your debris-collection tools. Whether it's a catcher, blower, chipper or plow, "Implements should be quick and easy to interchange," Stucky says. "They should be durable, carrying a warranty that matches the power unit they are to be used with. Most importantly, they should be designed and engineered to become an integral part of the unit, not just an add-on or afterthought."
Cleaning House
Aside from the more obvious vac collection systems and leaf blowers, several companies offer other debris-collection tools that can turn your mower into a fall cleanup workhorse.
JRCO Inc. offers the height-adjustable Model 480 Leaf Blade Plow, featuring a 55-inch width and stainless spring steel tines for anti-scalp. The company's Model 601 Blower Buggy is designed to hold most walk blowers on the front of zero-turn riding mowers. Both products attach quickly with the JRCO Universal Mount Bar.
Grasshopper says its dethatcher implement allows you to dislodge stubborn thatch, leaves and pine needles, and vacuum them up in one pass.
Walker's chipper/shredder attachment mounts on the Walker GHS tractor. It uses the GHS blower to discharge chipped material into the grass catcher for clean, easy debris removal. "With this implement on a Walker mower, you can quickly move the chipper to the trimmings, instead of having to drag the trimmings to the chipper," says Walker Mfg.'s Tim Cromley.
Getting back to the old standby, the vac collection system, remote handheld vacs are a nifty add-on that allow operators to clean hard-to-reach areas, such as under shrubs or in flower beds. Products such as Trac-Vac's Remote Pickups and Grasshopper's Remote Vac make it easy to switch from vacuuming with the mower deck to remote vac operation.
Companies in this article