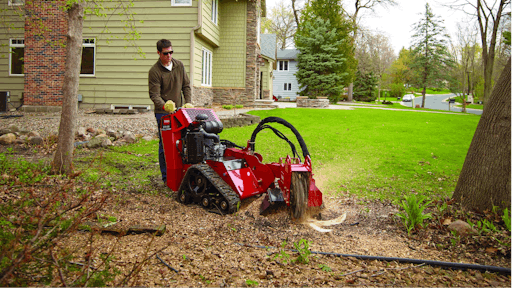 The Toro Company
Stump grinders are a crucial component for tree care professionals and one of the primary pieces of equipment for landscaper contractors who have customers asking for dying or storm-damaged trees to be removed from their yards.
There are two types of stump grinders users can consider for the job — the commonly used wheeled handlebar stump grinder and another conventionally used tracked walk-behind stump grinder. When removing a stump or multiple stumps in a residential area, crews could be faced with various stump ages, densities and sizes. As stump removal can be a labor-intensive process, these factors can help determine what type of equipment is needed to tackle the job successfully.
The following are insights from Jay Thaker, marketing manager at Toro, about some of the different factors that crew members can encounter when removing stumps, and some tips for selecting the right stump grinder for the operator and the job.
Key Stump Factors
Age, density, and size of stumps
As a rule of thumb, trees cut more recently can be more challenging to grind. Trees can also vary in density, and certain stumps can be denser than others, which in general makes it easier to grind. Although smaller stump grinders can technically handle a larger stump when it comes to size, users will need to consider the extra time needed to slowly chip away at a large trunk. It's much less labor and time-intensive to use a larger unit if you have a larger tree stump to remove.
Depth of the grind
How deep you want to grind the stump below grade will also determine which type of stump grinder you should choose. If users are looking to grind deep below grade, it is suggested to use tracked stump grinders. However, if users would like to grind a smaller diameter stump a few inches below grade, operators can use compact handlebar stump grinders to tackle the job.
Species of the tree
The species of the tree can help determine how long it will take to grind the stump. Hardwood stumps are generally easier to grind because of the clean chips that are produced. Whereas, conifers such as pine and cedar can be more time consuming because their softer woods shred rather than chip.
Types of Stump Grinders
Both the wheeled handlebar and tracked walk-behind stump grinders are user-friendly options. Whether the stump factors call for a tracked or handlebar stump grinder, making sure the unit has sharp teeth ensures operators can make good time in any condition.
Wheeled handlebar
Wheeled handlebar stump grinders are compact in size, easy to maneuver and efficiently grind stumps to mulch. Their well-balanced design and easy to use controls ensure smooth operation. Handlebar stump grinders also feature convenient lift handles for easy transport and unique cutting technologies that combine smooth grinding with simple maintenance.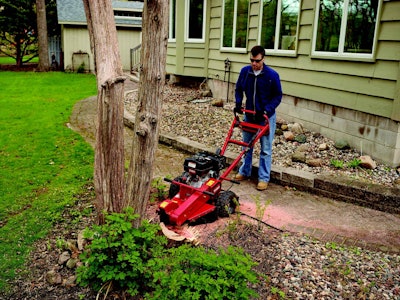 If users are looking to access stumps in tight places, near a house, or a location where there are multiple trees, handlebar stump grinders would be good options to consider. On some units, foldable handle allows compact transport in an SUV, car, truck, or minivan.
Tracked walk-behind
Tracked walk-behind stump grinders, on the other hand, perform much better on rough terrain and complete complex jobs in a timely manner, but often would require the use of a trailer for transport. The track design on the tracked walk-behind stump grinders better distributes the machine's weight, making these units ideal for residential applications.
Some models, like Toro's STX 26 and STX 38 EFI, feature technologies that automatically adjust the sweep speed based on how much load is applied to the wheel, so heavy cutting loads won't bog down the engine.
If users are looking for a more powerful grinder for removing larger stumps in a complex environment, make sure to look for a model that's built for durability in the toughest conditions.
Tips for Using Stump Grinders
Stump grinders are a great addition to a project, but they require some safety precautions. When operating stump grinders, operators need to keep in mind that they will throw chips. If they plan on working in close proximity to structures or other objects, you should remind them to protect or guard those in some way. Also, it is vital to ensure others in proximity of the grinding are at a safe distance and wearing appropriate protective equipment.
Here are some important reminders:
Wear protective gear to protect from flying debris.
Evaluate the proximity of the building to the stump when choosing which model to use.
Ensure that there are not any bystanders entering the jobsite.
If working with first-time users, keep an eye on them and the jobsite.
When using a handlebar stump grinder, don't try to overpower it by using too much downward force, sweeping too fast or grinding too deep too quickly. It is best to use a side-to-side sweeping motion at an inch in depth per pass.
If users have never operated a big, tracked walk-behind machine before, they will need to keep in mind how to use the machine on slopes. It's important to operate on up-and-down slopes with the front end of the machine facing the hill, where the cutting wheel is uphill at all times.
And lastly, as always, make sure to read the operator instructions before use.
Article and information provided by The Toro Company and substantially edited by Ryan Whisner.