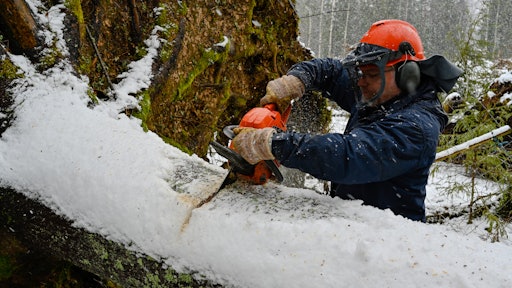 Jonas - stock.adobe.com
Fall and winter are approaching, and given current climate conditions, frigid temperatures are as unpredictable as ever. With harsh weather projected for 2021 and early 2022, it's crucial for chainsaw users to prepare themselves and their tools for seasonal shifts.
"When you're cutting in the cold, it's important to be prepared," advises Glenn Lovell, a senior technical services technician at Oregon Products. "Proper preparation and maintenance keep you safe and your equipment sharp and can save you time and money in the long run." Here are seven tips from Lovell and that make it safe, simple, and easy to keep on cutting during the cold weather months.
Use thinner oil. Bar-chain oil should either be lighter weight or diluted 25% with clean kerosene or diesel oil to prevent thickening caused by low temperatures. Users must also ensure their chain is receiving oil from the saw for adequate lubrication.
Check depth gauges. The height of the leading portion of each cutter, also known as the depth gauge, should be inspected at every sharpening. When necessary, file down depth gauge, as cold and hardened winter wood makes cutters more prone to wear.
Maintain sharpened cutters. Cutters should be touched up every hour or more as needed. Never force a dull chain to cut, especially when operating in frigid temperatures – and beware that ice and frozen wood may increase wear.
Keep an eye on the drive sprocket. The sprocket should be replaced every two chains, or sooner if wear is evident. Keep the sprocket cover clean to prevent moisture and snow from collecting in that area.
Inspect chain tension.

Check

and adjust your chain's tension often to ensure it is correctly tightened. In the wintertime, chains typically contract, which can damage your bar long term.
Examine the bar. Just as you rotate your mattress or the tires on your car, you can and should turn over the symmetrical bar to ensure equalized rail wear. Also, remove any winter debris or snow to keep the bar groove clean and oil holes open.
Wear personal protective equipment. Safety should be the priority for every job and project – even more so in winter. Wood is more likely to splinter in cold weather, making eye and face protection a requirement. With snow and ice present, waterproof chaps and gloves are essential for battling the elements – and protecting your limbs, given that chilly temps can slow reflexes and action time.