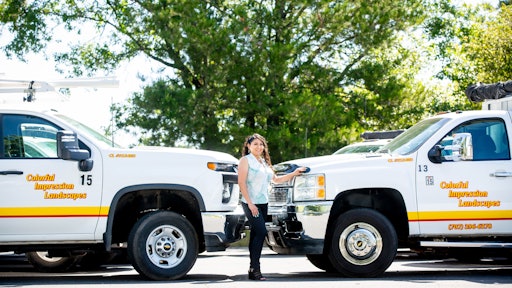 Venus Photography
Ana Avalos showed interest in the green industry long before she even knew what it was called.
While growing up, Avalos would walk around her neighborhood, envisioning designs for landscapes and gardens to beautify her area.
"As a child, I grew up in a place where there was no garden, and the few garden beds in the neighborhood had only bare soil," Avalos says. "I grew up in the poor part of town but in a beautiful county full of beautiful gardens. I was really attracted to the colors and textures of the plants and flowers. I was either admiring the garden designs I saw or creating designs in my mind of areas needing attention. I felt drawn to plants and design and the color that was available here in our area."
An immigrant from Guatemala who was brought to the U.S. by her mother at 8 years old, Avalos learned English and decided to pursue a career in the green industry as, even at such a young age, she knew she loved the outdoors.
It's safe to say Avalos' career blossomed from there as she's now the owner of Colorful Impression Landscapes, a company she helped build at age 23, and the winner of the 2023 Women In The Green Industry Award.
Here's her story.
Starting out
While Avalos found herself fascinated by the green industry from a young age, that fascination alone wasn't going to cut it if she wanted to become the head of her own company.
The first step on Avalos' career path began when she attended a job fair at her high school and she visited the agricultural booth at Santa Rosa Jr. College.
"I recall talking to one of the professors about careers in the green industry, and he was so excited about the industry that it really caught my attention," Avalos says.
From there, she attended Santa Rosa Jr. College and attained a degree in landscape design.
To further her industry knowledge and gain hands-on experience, Avalos starting working at Pacific Landscapes in 2004, while continuing her education to work toward her contractor's license. At Pacific Landscapes, she garnered experience in sales, HR and field management.
"When I started working there, I worked directly with one of the owners, and I learned a lot from him," Avalos says. "He would always tell me, 'In this industry, you have to work with different types of people, and everyone has different desires, so flexibility matters a lot.'"
Avalos took that lesson and many others to heart when she decided in 2007 to start her own company, Colorful Impression Landscapes, with a partner, who had nearly 30 years of experience and retired just last year.
"It was a difficult decision because I was working with good people, gaining a lot of experience and I was very young, but it really turned out to be a great decision," Avalos says.
In the early years, the duo ran every aspect of the company entirely by themselves: the sales, the designing, the physical work, promoting.
"We were just so excited about what we were doing and wanted to do our best, and it really showed in the work we did," Avalos says. "The company has since grown, and we still have clients who have been with us from the beginning. We have had property managers move to different locations and call us to request our service. Also, our employees recommend us as well, because we have a really good culture and great benefits."
Today, the company boasts 20 employees.
In addition to cultivating a welcoming company culture and creating beautiful work, Avalos credits her Latina background and ability to speak English and Spanish as another reason for the company's success.
"The fact that I am bilingual and a Latina woman, I can communicate directly (with clients and crews)," Avalos says. "So, I think that has been very helpful in growing the company as well."
Up to the challenges
Despite what Avalos' collected demeanor may suggest, increasing the size of her company did not come without challenges.
As a woman in the industry and a young one at that, Avalos says some people didn't take her seriously in the beginning.
"When I started my company, I would go to meetings or present at board meetings, and clients would ask, 'where's the owner? We were expecting someone with more experience,'" Avalos says. "I would have to explain that I do have knowledge in this industry and experience with a commercial landscape company."
In addition to receiving comments about her age, Avalos also received remarks about being a woman in the industry.
"I remember them very clearly, the time while I was working on a project, and a man would come up to me sarcastically and say, 'Are you going to be out there digging holes with all the men, too?'' Avalos recalls. "I would say, 'yes, I am a landscape designer, and I am going to with my team.' I would be questioned about my physical ability, and people shouldn't expect certain roles to be filled by a man or a woman. In some people's opinion, like the man who asked me if I'd be digging holes, to his knowledge, that job was only something a man could do."
Avalos determined not to take those comments to heart and instead, pushed herself to do the best possible job for each project, which helped change the minds of some of the doubters and in turn, forge a path forward for other women in the industry.
"You have to be confident about their own physical and mental abilities, but you don't just have confidence from the start—you have to build it," Avalos says. "It is an industry where there is a place for women, and we are capable of doing anything we set our minds to."
She also willed herself to be a continuous learner, both in the industry and in life. Besides her own experiences, Avalos has looked to books and other industry veterans to continue her lifelong quest for learning and bettering herself. She also signs up for seminars and continuing education sessions in her area and encourages her crew members to do the same.
"Sometimes people have a hard time trusting someone so young, because of the lack of experience, but you learn as you go," Avalos says. "You must learn the physical work, the bookkeeping, business management, the labor laws. There's a lot of learning involved with starting a business. Twenty years in the industry and I'm still learning. No matter what someone's age, if they think they are 100 percent right in everything and that they don't have any more learning to do, there's something wrong there."
Moving forward
Looking ahead, Avalos says she would like to continue to develop her company, while maintaining the same high quality of service that she provides to her clients now.
"Now that I'm the sole owners, I am certainly looking to growth the company," Avalos says. "When you have a partner, it helps because you can share the responsibility, but it also limited you because sometimes you don't necessarily agree on everything. I am hoping to expand my company, increase my team and maintain the company culture where we bring in people who are hardworking and care about the company."
She says both hiring and promoting a strong company culture will be two keys to that growth plan.
"When I started working, the recession was going on, so I saw a lot of people coming in, asking for an opportunity and there wasn't enough work for the people at the time, so that was heartbreaking for me," Avalos says. "I put a lot of effort in to hire, train and keep my employees long term and to provide an atmosphere where they feel like the belong. That means a lot to me as a business owner."
Words of wisdom
For other women looking to find their way forward in the green industry, Avalos suggests laying out goals and plans and silencing the voices of doubt that often get in the way of achieving them.
"Sometimes we stop ourselves from doing things because we want to feel fully confident, but confidence is built," Avalos says. "You don't just have confidence and have everything figured out—you build it by trying new things and learning as you go."
She adds that knowing the numbers to show you know your business and quantify successes doesn't hurt either.
"For example, when you purchase equipment or vehicles, be prepared with numbers," Avalos says. "That gains respect from the people you're working with. That will also help you negotiate better with confidence and communicate better with the people you're working with."
Finally, she commends initiatives and programs that further women in the industry as a way to boost their confidence and standing in the industry.
"Those initiatives show women they can be part of something that's really important and that we as women have an important role in the industry, too," Avalos says. "If they want to start a business or advance their career, those things will encourage them and make a big difference for the industry as well."
More answers from Ana
Green Industry Pros: What could the industry use more of?
Avalos: The industry could promote itself to be more of a career choice for kids who are still in school to think about. I was in high school when I first learned about this career. I would love to see the landscape industry promoted to kids in middle school and high school, so they can get into it, love what they do and make an impact on the planet because that's something that affects us all.
Green Industry Pros: What's your favorite part of the industry?
Avalos: I like going into a property, working with clients and making their ideas a reality. In California, with the drought, a lot of landscapes were changed to native California plants that require little water and low maintenance. Being part of that and being able to educate our clients about it has also helped the business grow and keep our clients happy and loyal to our company, because they know that we're really looking to help them maintain the best landscapes.
To hear our conversation with Avalos, click here.