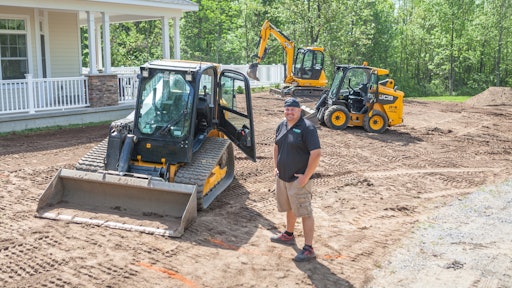 Jason Simmons is the owner/operator of D&S Landscaping of CNY in Fulton, NY, located roughly 30 miles north of Syracuse in upstate New York. He's built up a nice-size landscaping and snow removal company in the area he spent his early childhood years in. What's even more interesting, though, is how he did so while spending his winters working down South.
When Simmons was around 10 years old, his dad bought a backhoe to help with various chores around the homestead. "I grew up running that and really loved it," Simmons shares. They ended up moving down to Florida. After graduating high school there, Simmons decided to move back home to upstate New York.
"My dad wanted to stay in Florida, so I asked him if I could use that old backhoe to start up some kind of business back home," Simmons tells. "He said yes, of course. I started doing little stuff like digging stumps out. My uncle had a successful lawn maintenance company, mowing nearly 200 lawns a week. But I wanted to get more into the landscape construction side of things so I could operate bigger equipment like the backhoe."
When Mother Nature Calls
In August 2004, Hurricane Charley barreled through southwestern Florida. Simmons' dad was OK, as were some of his closest friends from high school. They all told him how much cleanup was going on and how people with the right equipment were getting paid good money to haul brush and debris around. Simmons wasn't all that busy up in New York because it was now getting into the fall season. So he loaded up his tractor, along with a couple of friends, and drove down to Florida.
"We got hooked up with a company from Mississippi hauling right-of-way brush to dump sites," Simmons says. "The three of us stayed really busy for a good month and a half. We could have been even busier if I had had more equipment."
That's why Simmons flew back home to New York, bought a trailer and used skid steer, loaded it up on his other truck, and drove back down to Florida. Now he had two crews assisting with the Hurricane Charley cleanup efforts during the winter months. But come spring, it was back to upstate New York to continue building his hometown landscaping business.
Then, in August 2005, Hurricane Katrina wiped out the Mississippi company which Simmons had been subcontracting for in Florida. "They called me up asking if I could come down and help them because they had tons of work to do but all of their equipment was down," Simmons tells. So he and a couple buddies packed up and headed back down South.
Like before, Simmons knew he could do more—and make more money—if he had more equipment. So he bought a used excavator and started picking up all sorts of new work. "We were down there for seven months and came back home in April 2006," Simmons says.
Simmons' evolving landscape business was still plugging along; he had a friend run it while he was in Louisiana. "It worked, because we were nowhere near the size we are now," Simmons adds. The size of his company was about to start changing, though. With all of these trucks and pieces of equipment he now owned, Simmons knew it had to—and had every opportunity to.
Reliability now top priority
Simmons started pursuing more commercial work in addition to the residential projects he'd long been doing. The jobs piled up so quickly that Simmons felt the need to get some new, more reliable equipment. "Used equipment can work out fine, but you just never know how it had been taken care of by the previous owner," Simmons points out. "My company was at the point where I wanted brand new equipment I could keep an eye on from hour one to make sure everything was properly greased and taken care of."
Simmons' dad advised him to look at JCB. "My dad had always been like my silent partner," Simmons says. "He'd always liked JCB's single-arm boom design on its skid steers and track loaders." Thus, although he was a bit hesitant because JCB wasn't as well-known as some other brands, Simmons listened to his dad.
Skid steer. Simmons purchased a JCB 225 large-frame skid steer with snowblower attachment. He parked it in one of his commercial parking lots that first winter. "We had one minor issue due to the extreme cold-weather conditions in 2013-14," Simmons recalls. But his rep from the dealership (Liftech JCB in Syracuse) had someone on site to fix it within an hour or so. From there it has been smooth sailing. "The visibility is awesome," Simmons says. "So is the cab room and overall comfort."
The wheeled skid steer is very effective in snow removal, Simmons says, because of its ground speed. "We use it with the pusher, going from parking lot to parking lot," he explains. "We also hook up the snowblower and do sidewalks all over the place. We also use our skid steer to load salt into our dump truck."
That said, the skid steer is also put to good use during the landscaping season—typically two or three days per week. Simmons will use it to, among other things, lay gravel, grade, load materials and dig for retaining walls.
Compact excavator. Because of his experience with the skid steer, Simmons again looked to JCB when he needed to get a new excavator the following spring. He purchased a Model 8065 with three buckets and a thumb. "I love this machine," Simmons says. "We run it quite a bit. Knock on wood, but we haven't had any issues at all. It's such a smooth-running machine. And the size is perfect, whether you're putting in a septic system, digging out a patio, hauling logs around or popping stumps."
Track loader. Most recently, Simmons has added a JCB 260T compact track loader to his fleet. Unlike the skid steer, which splits its time pretty evenly between winter and summer, Simmons' track loader is primarily utilized in landscaping.
"From April through to fall, it's pretty much used every day," Simmons says. "The skid steer will make a little bit more of a mess than the track machine will, so we tend to use the track loader more in landscaping. It's very versatile. We do use the track loader in the winter too. We'll put a snowblower on it, and it pushes like a bear if it has to because it gets such great traction in snow and ice. I'll often keep it at one of our bigger properties to clean up curb lines and sidewalks.
"We had only one fluke thing happen when a bolt broke and took out some hoses, which led to some leaking hydraulic fluid," Simmons points out. "But our dealer was excellent and all the work was covered by our warranty."
Busy, busy, busy
Simmons says he used to stress out over getting enough work to stay busy. Not anymore. "We stay plenty busy with our regular clientele who seem to find new projects every year, along with the new clients we get from word of mouth," he relates. "We stay pretty booked up three weeks out now."
His growing equipment fleet—now with JCB at its core—is helping Simmons get all of those jobs done. "The thing with me and JCB is the service, which has been great," Simmons points out. "Overall the machines are very comfortable, user-friendly, easy to understand and operate, and the hydraulic systems work great. At first I was a little nervous about all of the electronics, but I've had zero problems with the electronics. They make our job a lot easier, and the service from our dealer has a lot to do with that."
Companies in this article