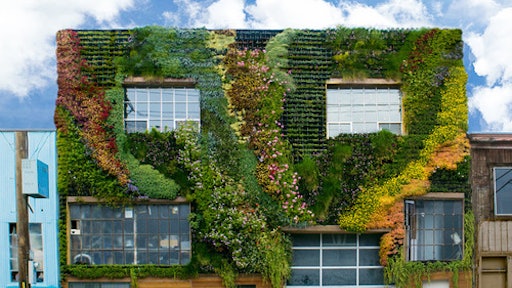 While plants are by no means the only, or even the best, way to express a naturalistic inclination in our homes, they deserve a special place in any environmentally minded home. Of the many trends suggesting that a major cultural shift toward biophilic design is on the horizon, living walls and green roofs are the most striking.
Jeff McBride of Houzz offers these 10 ways landscape designers can "go green" with a living wall or roof.
1. Exterior ecosystem. We'll start with a biggie: an entire exterior clad with plants can attract bees, insects and birds, creating a mini ecosystem to replace the one that was lost to the building's foundation. It's obviously best to design a new build to minimize the effect on the ecosystem. But planting a living wall can be a great way to upgrade an existing structure as an alternative to demolishing it or trucking in new materials to make it pretty again. When debating sustainable, biophilic strategies, always err on the side of leaving the fewest scars on the earth.
2. Rooftop rainforest. Making use of so much surface area for a rooftop garden makes intuitive sense, especially for homeowners who want to make their home greener but don't get enough sunlight to justify installing solar panels. Living roofs offer a variety of benefits, such as ecosystem regeneration and natural temperature regulation. They require extra thought and planning to ensure that the weight of the soil is adequately supported, but the physical and emotional rewards can be well worth it.
Related: Living Roofs Put Down Roots
3. Green garage. Green walls makes an inspired addition to a garage, that big hulking box we'd usually rather hide or disguise. With a plant wall, there's no need — the garage becomes something to celebrate.
4. Wonder wall. Walls, like garages, aren't always the most attractive and inviting structures, but with a little imagination, they can become living sculptures. Try playing with different plant species to create a striated pattern on the wall, emphasizing height and verticality.
5. Renewed rec room. As with everything in decorating and in life, a little can go a long way. Just as you might pick up the pattern or color of your draperies in a coordinating pillows, plant life has been carried from the wall to the table in this billiard lounge. Both stand out in glorious contrast to the sea of studied neutrals.
6. Green-topped wall. With a little bit of sunlight, climbing vines can make your living room feel as though it's been colonized by nature. An entire wall is possible but not necessary; accenting the top with vines will have the same majestic effect of a secret garden overflowing a retaining wall. But choose your vine well and consider supporting it on a trellis — some vines can damage walls to which they cling.
7. Stylishly spare. A living wall doesn't have to be lush and chock-full of plants. Vines look just as swell in sparse wisps. Yes, this counts as a living wall!
8. Bucket list. A wall of bucket planters also counts as a living wall. A setup like this allows for experimentation, as different plant species can be tested out here and moved into the garden if they don't thrive indoors. Empty spots look like part of the design rather than a result of indecision or poor plant tending. These planters would also be a terrific venue for a kitchen herb garden.
9. Natural art. San Francisco designer Lindy Donnelly once used two plant-filled frames in lieu of artwork over the nightstands. This is a great solution when you have wall space you'd like to decorate but don't want the specificity of artwork. Plants always read as an eclectic neutral.
10. Hallway hothouse. A green wall is an absolute home run for a hallway opposite large glass windows, doors or skylights. Situating your green wall to maximize sunlight is key.