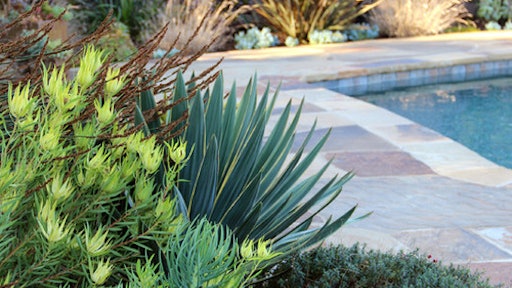 Houzz insights from Eileen Kelly
Deciding which companion plants to select for a grouping often comes down to personal taste and preferences, but knowing a few design principles will help ensure a successful design and plants that thrive together.
First, it is important to choose companion plants that have the same light, water and soil needs. Make sure the plants will thrive in your climate zone and site conditions. Then you can move on to blending plant characteristics, including plant shape, size, texture and color. By combining plants that are similar in one or more of these categories and different in others, you'll be on your way to achieving a winning plant combination.
Here are a few combinations that appeal to my plant design aesthetic. I use many of these plants and combinations in the landscapes I design in Northern California, but they will grow outside of California. I've included some of my favorites, and I chose plants that have low water needs and thrive in full to partial sun.
Bold, dramatic statement with succulents and friends. The setting is a dry, hot and sunny poolside location in Southern California, beautifully designed with site-appropriate plant choices. The foliage makes this a winning combination, offering year-round appeal with a just-right balance of textures and hues. The spiky anchor plant happens to be my personal favorite succulent.
'Blue Glow' agave (Agave 'Blue Glow', USDA zones 8 to 10) has broad, spiky leaves edged in red that appear to glow when backlit by the sun. It's a perfect focal point plant, growing 2 feet tall with a 2- to 3-foot spread.
'Golden Tip' conebush (Leucadendron salignum 'Golden Tip', zones 9 to 11) is another standout, offering a dramatic contrast with its leathery leaves and yellow flower clusters — which are actually bracts — that are great for cutting. It grows 3 to 4 feet tall and 4 to 5 feet wide.
Narrow-leaf chalksticks (Senecio cylindricus, zones 9 to 11) provides yet another complementary texture with its succulent finger-like foliage and bright green tone. It grows 18 to 24 inches tall, with a wider spread.
'Mesa Wine' sunrose (Helianthemum 'Mesa Wine', Zone 5) hugs the ground with its dark foliage, tying the composition together beautifully with tonal harmonies and contrasting shapes.
Tapestry of pastel flowers and silvery ground cover along a flagstone pathway.The repetition of these plant companions creates a sense of unity and balance in this San Francisco Bay Area setting. The stately oak beyond the pathway provides a lovely backdrop, called a borrowed view, further enhancing the composition.
Sea thrift (Armeria maritima, zones 4 to 8) is a small mounding plant that bears striking rounded clusters of pink flowers that dance upon 1-foot-tall erect stems. In this composition they echo the soft pink of the flagstone pathway.
Silver carpet (Dymondia margaretae, zones 9 to 11) is a tough low-growing ground cover with grayish-green foliage and small yellow flowers. It's a great choice for planting between pavers, as shown here, and in open areas. It forms a dense mat cover that can also take foot traffic.
Forthnight lily (Dietes iridioides, zones 8 to 11) adds a vertical element and is topped with white iris-like flowers.
Lavender (Lavandula sp., zones 5 to 9), with grayish-green foliage, proves an abundance of fragrant purple flower spikes. It grows 2 to 3 feet tall and wide, depending on the species.
Eye-catching succulents and companion plants on a pebble pathway. This plant combination not only provides a medley of complementary leaf colors and textures, but the cascading succulents also soften the border and nicely contrast the dark Mexican pebbles.
'Angelina' stonecrop (Sedum rupestre 'Angelina', zones 3 to 11) shines with its chartreuse needle-like fine foliage. It grows quickly as a dense succulent ground cover, reaching 3 to 4 inches tall with a wide spread. Its succulent companions include a gray echeveria and other sedum varieties.
'White Swan' coneflower (Echinacea purpurea 'White Swan', zones 5 to 9) adds height to the mix, growing 2 feet tall and 1 foot wide, and flowers from summer to fall.
'Seascape' mat rush (Lomandra confertifolia 'Seascape', zones 8 to 11) adds softness with its fine grass-like texture and compact habit, growing 18 to 24 inches tall and 24 to 30 inches wide.
Cool combo in shades of purple and blue. Repeating plants of similar colors, as in this grouping in a Massachusetts garden, offers a bit of calmness even if there is a variety of strong and opposite shapes. The grouping is repeated on the other side of the pathway and throughout the garden, visually connecting the garden spaces and mimicking plant habits in nature.
'Globemaster' ornamental onion (Allium 'Globemaster', zones 5 to 8), with its striking sphere-shaped flower head and small purple florets, rises above with its stalks that can grow 3 to 4 feet tall.
'Walker's Low' catmint (Nepeta x faassenii 'Walker's Low', zones 3 to 8) boasts lavender-blue aromatic flowers, offering a soft feathery contrast. It grows to about 30 inches tall and 24 inches wide.
'Mainacht' sage (Salvia x sylvestris 'Mainacht', zones 4 to 9) has numerous dense, upright flower spikes with deep violet-blue flowers; it grows 18 to 24 inches tall and 12 to 18 inches wide.
Opposite colors attract. This combination has a beautiful layering of sizes, shapes, colors and textures in tones of gray, chartreuse, dark green and orange.
Silver carpet (Dymondia margaretae, zones 9 to 11) appears again in this combination, providing a thick mat of groundcover that harmonizes with its companions.
Golden breath of heaven(Coleonema pulchellum 'Sunset Gold', zones 8 to 11), with brightly colored and fragrant chartreuse foliage, grows 2 to 4 feet tall. Profuse blooms of small pink flowers appear in spring.
'David Verity' cuphea (Cuphea 'David Verity', zones 8 to 11) creates the backdrop for this vignette at 5 to 6 feet tall. Long dark green leaves contrast with an abundance of narrow, tubular dark orange flowers. It prefers full sun to light shade.
Repetition of plant groupings with large and small plant foliage and flowers. This plant combination is set above a long light gray stone retaining wall. The large, bold leaves of the lamb's ears hold up to the wall's strong lines yet have a velvety-soft feel. The grouping is further complemented by smaller-textured plants and cascading flowers that add more diversity with colors and softness as they cascade along the wall.
'Helen von Stein' lamb's ears (Stachys byzantina 'Helen von Stein', zones 4 to 8) has large velvety-soft silver-green leaves and grows in a mounding habit to 1 foot tall with a 2-foot spread. It's a great edging plant and filler, and it's very effective mixed with plants with a variety of contrasting plant shapes, colors and textures. Grow it in full sun to partial shade.
Tuberous vervain (Verbena rigida, Zone 7) has clusters of deep purple flowers held on stiff stems. It grows 1 foot to 2 feet tall and 3 to 4 feet wide.
'Tapien Blue Violet' garden verbena (Verbena hybrid, zones 8 to 11) softens the plant-bed edges with its low growing habit and dense flowering.
'Hallmark' snake flower (Bulbine frutescens 'Hallmark', zones 8 to 10) adds a touch of orange and yellow to the mix, with its flowers clustered on 1-foot-tall stems.