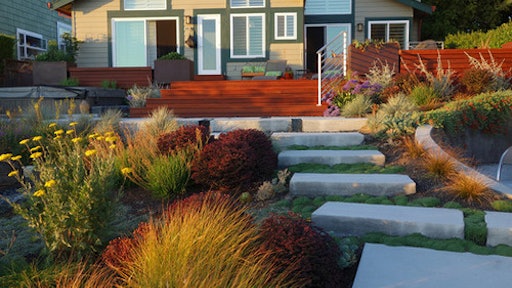 Insights from Annie Thornton, Houzz
A Houzz Landscaping & Garden Trends survey from last May helped shed some light on what homeowners are looking for in their landscaping. Survey respondents said they want a beautiful, low-maintenance landscape that supports relaxed outdoor living—and they are making substantial changes to achieve this. They're adding paving and garden beds, renovating or building structures, and redoing their yards. A vast majority also want to replace plantings, focusing on plants that are both attractive and easy to maintain.
Will those trends continue this year? Time will tell, but it's more than likely. Here's some more of what the Houzz survey unearthed.
Recently purchased homes. Many people who've recently purchased a new home have been looking to overhaul the landscaping. This might include grading, terracing and adding landscaping. The more substantial the project, the more likely the homeowner is to hire a landscape professional, with 59 percent working with a pro on major projects.
Effortless beauty. There is an overall desire to beautify outdoor living spaces, with landscapes that are stylish and beautiful being the second most valued aspect, behind being able to use the space for outdoor living, which was No. 1.
But homeowners don't want to spend a lot of time maintaining their yards; they want to be able to enjoy entertaining there. Nearly two-thirds of survey respondents use their outdoor areas for relaxing. Almost half spend time there gardening, and about the same percentage use their outdoor space for entertaining.
One respondent in Virginia who did minor outdoor updates shared this sentiment: "We didn't want something that we had to worry about the weather or dogs (we have three) messing with."
Outdoor living. Homeowners are selecting hardscape, building and planting materials, and features that are both attractive and low maintenance.
Three out of four homeowners are adding or updating structures. The top project, favored by nearly 45 percent, is a patio or terrace. The next popular update is an arbor, a gazebo, a pergola or a trellis. Decks are the third most frequently cited project.
Popular choices for outdoor patios and terraces are pavers, crushed gravel and rock, and durable stone slabs, such as in this backyard in Portland, Oregon.Pressure-treated wood and composite decking — which need little maintenance and are resilient and long-lasting — are the favored deck materials. Flowering plants are the most desired choice for new plant material, followed by plants that are low maintenance.
Three-quarters of homeowners who are renovating are planning to add new outdoor living items — furniture and seating, grills and patio heaters are some of the most popular. Homeowners are also updating or adding new lighting systems, to allow outdoor lounging, dining and entertaining to extend well into the night.
Related: Enhance an Outdoor Living Room With Updated Patio Furniture
"Hardscape is what defines a true outdoor gathering space," says San Francisco Bay Area landscape designer Sara Warto. Hardscape also contributes to a low-maintenance space. "The nicer the hardscape, the sharper the plants look," says California landscape designer Gabriel Frank. "It's one more thing homeowners don't have to grow or maintain."
Less lawn. Few landscape elements feel more American than the lawn, but perhaps it's a new era for the green carpet. Whether because of water shortages, year-round maintenance or simple design fatigue, more than a third of homeowners with a lawn who are upgrading their outdoor spaces will be reducing the lawn.
Many homeowners are tired of maintaining their lawn and are tired of how it looks, according to the survey. New hardscape, the most popular replacement for a lawn, is being chosen to reduce maintenance and enhance design.
One respondent in Washington replaced a small rotting deck and all of the grass with a larger composite deck and a hardscape fire pit area. "We are enjoying more relaxed time outdoors and really seeing the benefit," the homeowner says.
A respondent in Florida who finished a landscape overhaul replaced dying grass and a cracked concrete patio with a pergola and a large deck surrounded by gravel, saying, "We were able to create extensive outdoor space with comfortable space to sit, relax, grill and entertain."
Californians have the environment and water on their minds and are twice as likely as the rest of the country to reduce or eliminate their lawns with these considerations in mind. Though Californians are more likely to replace their lawns with hardscape or plants, they are twice as likely as the national average to replace their lawn with synthetic grass.
The joys of gardening. Outdoor living might top homeowners' lists of the most valued design aspects, but homeowners still want to garden in their outdoor spaces. Gardening is the second most popular use of outdoor space, behind relaxing, and many said they garden as a way to relax.
Of the homeowners who will be upgrading their outdoor areas, 92 percent are planning to change their plantings. Flowering and low maintenance are the top characteristics homeowners are looking for in plants.
Homeowners are also gardening to nurture nature. More than 40 percent of homeowners said they plan to incorporate plants that attract butterflies, bees or hummingbirds, or are drought resistant or native.
Related: Nurture Nature in Your Garden With a Beautiful Birdhouse
Water issues. Additionally, homeowners across the country are thinking about how to deal with water — either too much or not enough. Drainage and flooding comprise the top challenge addressed during outdoor upgrades, with drought and water shortages being the second most commonly addressed challenge.
Two regions are particularly thinking about water. In Texas, 47 percent of homeowners consider flooding to be a top challenge to address during an outdoor upgrade. In California, 70 percent of homeowners cite drought considerations as their top renovation challenge.
What does this mean when it comes to landscape features? Nearly one in five homeowners who plan to upgrade an outdoor space will add some sort of rainwater harvesting device, and 29 percent will add or update sprinklers or irrigation systems. Three percent of homeowners plan to install a greywater system so that they can recycle the gently used water from their sinks, laundry and showers back into their gardens.
Backyard farming. Respondents are also making room for farm critters in the yard, particularly chickens. In rural landscapes, one in 10 homeowners upgrading an outdoor space is adding a chicken coop and chickens. In urban areas, such as this Austin backyard, one in 50 homeowners is upgrading an outdoor space to add a chicken coop. Other backyard farm additions include beehives, particularly in rural areas, as well as doghouses, ducks, rabbits and goats.