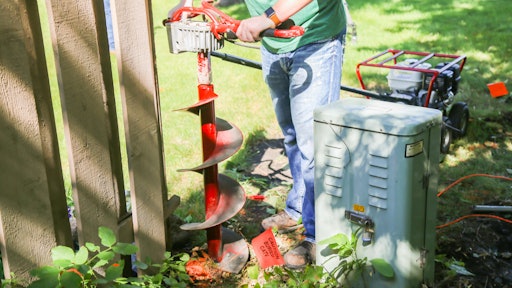 It's all about the first move. On a baseball field, after coaches devise their plans and players report to their position on the diamond, the pitcher makes the first move. That first pitch often determines the direction of the game and sets a tone for the success of the team.
For contractors, the first move is equally important. In the fence building industry, specifically, the first piece of equipment on the jobsite can determine the success of the project.
A good contractor knows the importance of the initial move and understands the significance of the first equipment onsite: augers. Whether it's a commercial or residential project, rocky soil or black dirt, contractors are familiar with the importance of a good auger. Just like that first pitcher, having a reliable auger onsite can set everything off in the right direction. The rest of the team – or the workers on a jobsite – are positively affected.
While augers vary in width, durability, blade and bit options, they all adhere to a very basic design. The options for delivering power to the auger vary a bit more, from small, handle-mounted machines with two-stroke engines to powerful hydraulic systems on compact loaders. Each offers benefits and drawbacks, whether it's power, auger speed, cost or size.
Efficiency and portability are often top priorities for fence contractors, especially considering that time is money and the less time spent digging holes equates to more completed projects.
Know Your Options
Despite being a fundamentally basic task, not all equipment is equally adept at digging holes. Plus, all projects, worksites and soil conditions present their own challenges. One fencing contractor in California is familiar with these challenges.
To complete projects efficiently and keep on track, workers need equipment that can withstand the long, grueling fence-building season. After experimenting with several hydraulic and mechanical drills, the contractor now depends on a skid steer for large commercial projects and Little Beaver's Mechanical Earth drill for everything else. Both run heavy-duty pengo-style augers to ensure dependability, regardless the soil, whether it's black dirt, heavy clay, sand or gravel.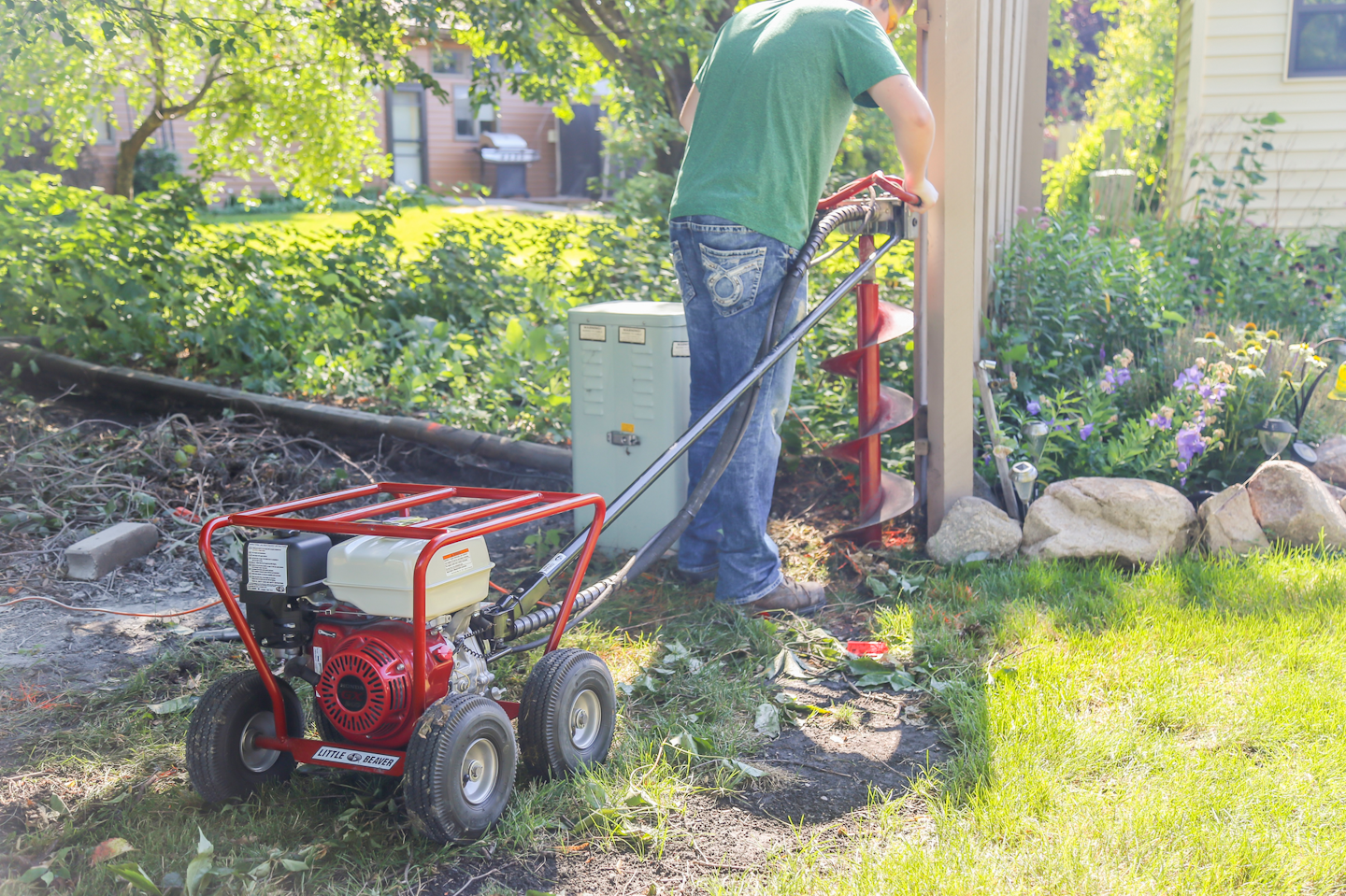 Mechanical drills dig nearly twice as fast as a typical hydraulic rig, and are less invasive and disruptive than a skid steer."Fence builders in this region have found great success with our mechanical earth drill," said Mike Hale, Little Beaver sales and marketing manager. "They never worry about the drill having enough power to dig through the rocky soil. Contractors have commented on the power of the Honda motors in the drills and how the power makes the work easier for workers."
While there are hydraulic drills that may handle the clay and shale more gracefully than his mechanical drills, they don't come without compromises, as hydraulic drills tend to be more expensive, heavier and operate at slower speeds. The mechanical drills dig nearly twice as fast as a typical hydraulic rig. And speed is key when you're paid to build fences, not play in the dirt.
Contractors often turn to skid steers for larger commercial projects, but equipment that size can be problematic on residential jobs.
"When a homeowner pays you to build a fence, they expect a beautiful finished product, and that includes a tidy yard," Hale said. "Driving skid steers around can rip the turf and leave marks."
The mechanical drills can be easily maneuvered between buildings and in other tight spaces. They also feature pneumatic tires to eliminate any concerns about turf damage.
Don't Get Backed into a Corner
During peak season, crews don't have time for repairs. Even the smallest breakdown can set off a chain of delays, back up crews and result in unhappy customers.  
"In the middle of the summer, the priority is getting from site to site," the contractor said. "There's no time for repairs."
Luckily, when it comes to his drills, he doesn't lose any sleep. The company keeps five mechanical drills in operation — one for each crew — as well as two backup drills that are ready to go at a moment's notice.
Most drills last a good five to seven years, which is no short lifespan, given the rigors of the job. Routine maintenance is necessary and can further increase the lifespan of equipment.
When work tapers off during the cold winters, this allows the contractor to catch up on repairs. For their earth drills, this means repairing or replacing augers, blades and an occasional clutch or flex shaft — all things that are to be expected considering the abuse the drills endure the rest of the year.
"And when repairs are necessary, they're never much trouble," the contractor said. "We keep spare parts on hand, and Little Beaver always has a fast turnaround when we've had to order more."
Along with his drills' ability to endure wear and tear, he says the main benefit — and big reason he remains loyal — is their ability to reduce wear and tear on his employees.
Reward Loyalty
The area includes all soil types, including rock and hard clay. The rocky soil is not only hard on earth drills, it can also take a toll on operators if they are not protected from the auger's torque.
"Digging with the skid steer, the operator is seated in the cab and protected from kickback," Hale said. "What really sets Little Beaver's mechanical drill apart from others is its torque tube and how it protects the operator."
In the event the auger strikes a rock or drilling becomes difficult, torque from the auger transfers from the drive head to the power supply, bypassing the operator. With most competitive rigs, that torque is absorbed by the operator. If not for the torque tube, he expects his employees would experience more strains and injuries, which can impact overall productivity and result in lost revenue.    
"Having safe, user-friendly equipment is key to keeping high-quality workers," Hale said. "A lot of factors affect worker turnover, but we try to combat that by providing the best equipment."
For a business owner unwilling to let the removal of dirt from holes hold him back, it comes as no surprise that the contractor refuses to lose business or long-time employees due to frustrations with hole digging equipment. After all, he's in the business of building fences, and knows the importance of a good starting pitcher.