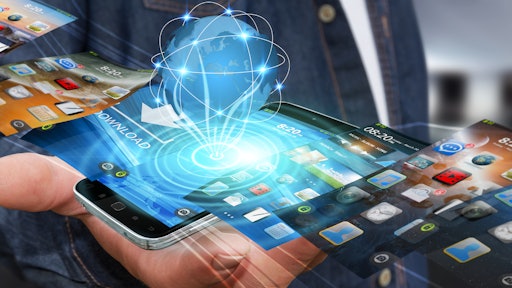 ©sdecoret-stock.adobe.com
It's all about embracing business apps, which was built specifically for you, the small business owner. Most of these new business apps have been designed with the layperson in mind. Many smart business app makers have spent countless hours and capital making sure that the navigation or the journey, on their app is a welcoming and friendly one.
"There is data, that for the betterment of your business, you need to look at and take a look at all your software systems that you have, whether it's QuickBooks, or Google Analytics, or constant contact for your email, there's a lot of data that sits in there," says Bill Furlong, CEO, and founder of SquareStack.
Many companies now are becoming socially conscious in the way that they go about their business. Understand the metrics coming out of each of your software systems, he says.
The idea of using apps as the central system for your business is absolutely essential in today's marketplace. The results it garners will allow you to gain insights on exactly how your prospects and customers are engaging with your service.
Read More: Appify Your Business: How-to-Guide in Leveraging Technology for Profit
"You should make it a daily if not weekly ritual to check your executive dashboard -which you can do through GreenApps- to understand how much money is in the bank, how many new followers do you have on Facebook, did your employees submit their expense reports?" he says.
This data will help you understand what's doing well in your business: what's selling, what's not selling, and how your customers prefer to hear from you. As much as the CRM system is needed to actually do all of this, the essential commitment you need to make is to actually analyze the data that comes out of the platform.
Another important element of your digital sphere is to continue or start to do most of your procurement online.
As you begin to save time by using business apps to run your business, it's essential to have real-time access to these key metrics within each component software.
For instance, consider your website. Analyze the data around elements such as:
Number of visitors
What time they're coming into your site
What parts of your site they're looking at
Every one of your software partners can lead you to tutorials, as well as other educational platforms like webinars and white papers, so that you understand how to use that software better and how to mine that data even more effectively.
Of small businesses who use small data: 83% use email marketing reports 64% use website analytics 52% use social media analytics 48% use sales trends according to Small Data and Small Business.
"Being funded by venture capital and entrepreneurs, is they want to make it easier for people to use software. So, they've done a lot of their own research to make it easier for you," Furlong says. "But even if you find it not easy enough, those companies have customer service team's concierge service, like we do for GreenApps, we call White Glove service, where they'll get on the phone or chat and show you through how you track the metrics."
You must have all of your contacts within a Customer Relationship Management (CRM) system. That then becomes the anchor, the lifeblood, of everything else you do, whether it's social media marketing, online email newsletters, a blog or traditional mailing.
"All these data points that you become more ingrained into checking out, you will be more strategic, you'll be able to lean into your business and make more informed decisions about whether to buy a new mower or hire two new field workers or layoff someone," Furlong says. "That's the beauty of having an AppStack. This provides you with an understanding all the data coursing through your enterprise. It allows you to become more strategic and less reactive so you're not putting out fires on a daily basis."