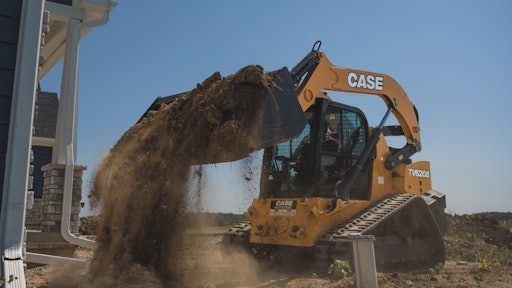 Case Construction Equipment
How big can a machine grow and still be considered a compact machine? We have seen a lot of R&D focused on the development of ever larger compact track loaders (CTLs) as customers demand increased productivity in the most demanding applications. Case Construction Equipment has just upped the ante in this high-stakes segment of the equipment market by introducing the largest production compact track loader in the market by shear operating weight at 16,000 lbs.
"The TV620B is the most powerful CTL ever built," claims George McIntyre, product manager for skid steers and CTLs, Case Construction Equipment. "We have the industry's best breakout force at the bucket and the lift arm. We are tied for the highest rated operating capacity and we have the most track lands on the ground with 74 in. We have the best combination of hinge pin height and maximum reach at full dump in the industry."
The hinge pin height is 140 in. with reach at max dump height of 39 in. There is a CTL that offers more height and a CTL that offers more reach, but no machine beats the vertical lift Case TV620B at both. "It is a combination of height and reach that allows for the loading of high-sided dump trucks," he explains.
The machine comes standard with a 84-in. wide bucket that holds 1.25 cu. yds. "We are looking at different buckets to meet up with this machine," he adds. "One of the things that we found is that the buckets on the rest of our CTL lineup just don't match up to the power of this machine."
Customers Demand Larger Machine
You may be asking yourself why the industry needs a larger CTL. That would be a valid question given that anything weighing 16,000 lbs. is really stretching the definition of compact.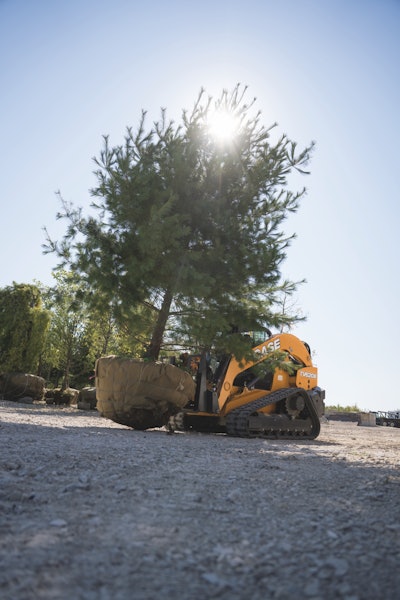 "As we look at the size of compact equipment, I think we can say that customers need and desire more production out of their product that they only used to have in the compact range," notes Brad Stemper, North American compact construction equipment product management, Case Construction Equipment North American Compact Construction Equipment. "The full spectrum of products within the construction equipment world covers a lot of operations."
CTLs have been witnessing increased customer demand at the large end of the spectrum. "The size class at this size of the industry is one of the fastest growing," says McIntyre. "It's where the industry is going. There are some very practical reasons for that. First is lifting and loading capability." The TV620B was designed to confidently load larger trucks and carry heavier pallets. It is also designed to efficiently run heavy-duty attachments such as mulchers and cold planers. "It is a large, stable and powerful platform."
Many industry segments, such as land clearing and site development, depend on hydraulic horsepower intensive attachments. "We see this as being a true site development and land clearing machine, running those really intense attachments," notes McIntyre. "It will have a role on large construction sites. It is an all-around machine that can dig more, lift more and carry more. It is a real material handler and we see it popular with landscapers, especially those running precision grading boxes or blades."
A laser grading blade with 2D or 3D guidance could turn the Case TV620B into a compact motor grader for jobs such as paving and grading. "Landscapers will use that on large scale patios and driveways," adds McIntyre.
Advanced Features Included
Many features that tend to be optional on smaller machines will come standard on the TV620B. "When you build a machine this big and this powerful, it's really meant for serious equipment owners and operators," explains McIntyre. Owners who buy this type of equipment generally prefer machines that are fully loaded. Some of the standard features on the TV620B will include adjustable electrohydraulic controls, high-flow hydraulics, auto ride control, self leveling, a hydraulic coupler, an auto reversing fan, fully adjustable LED lights and a one year subscription to Case SiteWatch telematics.
It also comes standard with the Site Connect module that was introduced on the G Series wheel loaders earlier this year. "That gives people some really powerful fleet management tools, including remote diagnostics, software updates as well as monitoring by the Case Uptime Center.
"The machine is going to be connected and we are actually equipping this machine with the next generation of modem from Case Construction," says Stemper. "The processing and communications modem is connected on this machine and it's going to grant us additional functions and features that today's normal modem is not capable of, such a remote service tool and firmware over the air updates."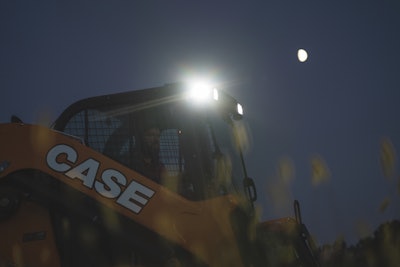 The TV620B shares many of the Case B Series features including the new operator interface and an 8-in. LCD multifunction display with a rear view camera that is on a split screen display.
There are other options in development. "We absolutely know that we need a guarding package because of where this machine is going to be operating," notes McIntyre. "We are working with out partner supplier on it and we will have one available shortly after launch.
Large Tracks Disperse Weight and Provide Traction
The TV620B features a track length of 74 in. and the tracks are 17.7 in. wide. "We have more track length on ground than anyone and we have this extremely robust undercarriage that supports the machine," explains McIntyre. "Six triple flange rollers, double flange idlers, all while keeping the ground pressure down to 6.1 psi."
Standard automatic ride control helps provide a smooth ride while improving material retention. "There is no need to keep a finger on a switch to keep it engaged," says McIntyre. "If you have automatic ride control set, that all happens automatically at the speed you select in the screen."
"We received some questions about steel undercarriage," says Stemper. "The steel undercarriage is being developed in coordination with the DL550. We are going to offer a steel undercarriage. It is basically a sized down version from our 650 M dozers that is going to go on both this machine and the DL550. That is going to be available in two track types, a 14-in. single bar grouser and an 18-in. triple bar grouser. This machine will offer the steel track option when the DL550 comes out in Q2 of next year."
Hydraulic Power Defines CTL Performance
Hydraulic flow and pressure really define a CTL's capability in demanding applications. With the TV620 B, the standard hydraulic flow is 35.6 gpm at 3,450 psi or 4,100 psi with the enhanced high flow option.
"A standout new feature on this TV620B is the new hydraulics on demand," says McIntyre. Operators can go into the 8-in. LCD multifunction display, whether in high flow or enhanced high flow, and select the percentage of flow to the attachment. "That really gives the operator greater control over attachment performance."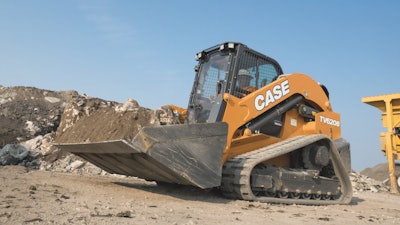 This machine is designed to run the most demanding attachments. "Between the hydraulic horsepower and the cooling package on this machine, it can consistently run big attachments such as cold planers and mulchers," notes McIntyre. "Combined with the reversible fan, it makes sure your cores are clean and that cool, fresh air is able to make its way into the engine and keep things cool."
The TV620B actually comes standard with the auto reversible fan. "You can manually engage it or you can set it automatically to run at certain intervals for a predetermined length of time," says McIntyre.
Engine Doesn't Use DPF
The engine for the CTL pumps out 114 hp. It uses a Cooled Exhaust Gas Recirculation (CEGR) and selective catalytic reduction (SCR) emissions solution that doesn't use a diesel particulate filter (DPF). So there is no regeneration required. "It's a really simple engine solution," notes McIntyre. This simplified solution only requires that you keep the diesel exhaust fluid (DEF) tank filled with clean, quality DEF.
Maintenance has been simplified. Regular check points are grouped into a single area under the engine compartment cover, easily accessible through the heavy-duty rear door. The entire cab tilts forward in just a few easy steps to access the entire drivetrain compartment for easy service and inspection.
The TV620 is built in Witchita, KS and is expected to start rolling into dealerships by Q4 of this year.