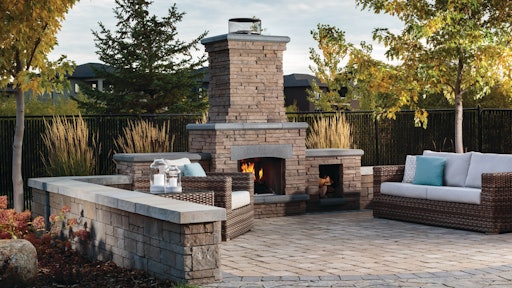 Belgard
As we all know (probably too well), design trends change with each season and year. Outdoor living has evolved significantly over the past two years, with homeowners now placing increased importance on their outdoor space. A recent Houzz study notes that home renovation spending increased 15% in 2021, and the desire for outdoor living is expected to continue.
With the start of a new year that's expected to be as busy, if not busier than the previous year, contractors and their crews need to be prepared to tackle new projects and meet customer expectations. As customers seek out new or upgraded outdoor living spaces, there are a few key trends to anticipate.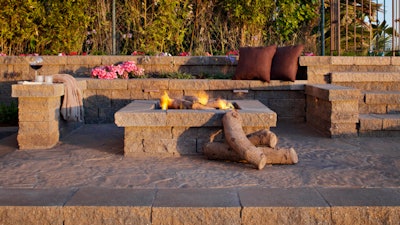 Take Note: Outdoor Living Trends to Keep Your Business Successful in 2022
Large format expansion with narrow joints is quickly becoming preferred, as it makes the installation process easier and more efficient. The scale of pavers has increased, thanks to continued innovation within the industry. Larger pavers have much more surface area, which allows crews to install an increased amount of square footage quickly – cutting down on time and labor. The resulting style is the clean, modern aesthetic that is popular among many homeowners today. One important thing to note when incorporating larger format pavers into a design is the potential need for additional equipment to ease the burden of transportation and installation, given the increased size and scale of the materials.
The more modern approach to design has led to the popularity of modular, geometric patterns. Composed of clean lines and simple formats, these patterns create an uncluttered aesthetic that aligns well with modern style. Many pavers and other outdoor living solutions are now designed in modular fashion to reduce installation time and simplify the process. This allows crews to maximize their time so they can take on more projects, and customers get to enjoy their spaces sooner. There are also 3D design and AR tools available to aid you during the design process and give your customers a more immersive representation of their design plan.
With these elevated design aesthetics comes the customer's desire for more functionality in their outdoor living spaces. From the start of any project, contractors should think ahead and be prepared to incorporate elements like lighting, sound technology and shade structures that create a well-rounded space suitable for work, play or relaxation. Customers no longer use outdoor spaces solely for entertaining but are incorporating them into their day-to-day routines – so even access to WIFI and electrical outlets is critical to ensure maximum functionality.
Coupled with this increased need for functionality is the advancement of turnkey solutions that make it easier to create a truly cohesive space. The integration of components within outdoor living products allows you to show customers a near-exact representation of their project, which can help cut down on any back and forth during the design process and eliminate the need for revisions. For example, Belgard's new Elements product line includes kitchen and bar accessories that can be showcased in the design process. Templated design approaches, like Belgard Rooms, also help map out the design of one or multiple outdoor living spaces. This program allows you to fully develop design plans based on style preferences and streamline the process from start to finish.
A final installation trend to keep in mind this year is utilizing wet poly-sand for jointing hardscapes. Solutions on the market today, like Techniseal's NOCOSTORM, work under wet or dry conditions. This helps you avoid delays in paver installation, meaning you don't have to factor in weather as a consideration. Should you encounter a rainy day, moisture won't be an issue.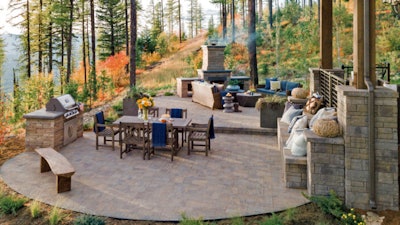 The Impact of Outdoor Living
Each of these design trends is important to keep in mind as you serve customers in the new year. However, the most important trend – or really, mindset shift – to remember is the change in thinking around outdoor living and how it impacts lives. Science shows that quality design not only provides a better space but improves our health and wellbeing. Through more biophilic design, you can create spaces that connect your customers with nature and improve their physical, mental and spiritual health. We've all come to better understand the importance of a well-crafted outdoor space that serves as a respite from the world's distractions. Consider this as you serve clients in 2022, and beyond, so you can design spaces fulfilling spaces that improve their lives.