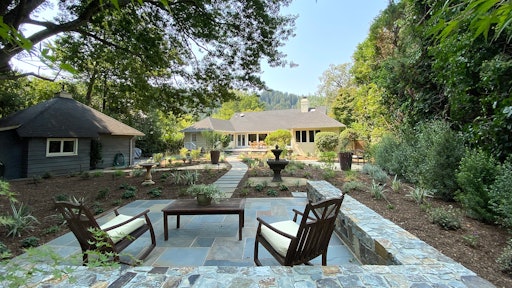 Eileen Kelly, Dig Your Garden Landscape Design
Bringing clients' visions to life before a single hardscape product is placed, design software can save designers time, streamline operation managers processes and even help sales reps upsell their clients.
"It's exceptional being able to show the customer what their property is going to look like when we're done with the project. In fact, we've had cases where sales have improved because being able to picture what a property could look like has a significant impact to the customer's purchasing," says Nicholas Branigin, landscape designer at Global Greenz in Melbourne, Fla. "It also allows for exact measurements so our people in the field know exactly where the plants should be placed and the square footages of hardscapes so when it comes to calculating and quantifying and quoting the project, we're getting a lot more accurate."
Branigin, Eric Gilbey, product marketing manager at Vectorworks, and Joshua Martin, senior product manager at PropertyIntel, an Aspire solution, dig into how design software can level up hardscape contractors' businesses and lay out what they need to know before incorporating it into their operations.
The benefits
Time savings and efficiency gains are two of the biggest benefits to adding design software to a firm, Martin says.
"With our program, we found users were gaining 75 percent or more of their time by doing it in the software," Martin says. "They're much more efficient with their time and more accurate with their design because that software is going to help them create it to scale. Then that goes into the efficiency on the production side of things, eliminating waste and having much more profitable work."
Further adding to the time savings, Gilbey says that moving from hand drawing to design software allows designers to create template files so they can hit the ground running on the next project.
"Every project after that becomes easier and less time consumptive because they're not trying to re-create everything," Gilbey says.
In addition to saving on time, money and materials, design software can also help landscape firms present a more professional image.
"We are to the point where we've gone through a digital revolution, and so customers these days expect a very clear, professional presentation," Martin says. "You can usually tell something that was done with the accuracy of a computer and something that was done roughly by hand."
Considering all the benefits, Branigin recommends charging customers a design fee for the upfront work.
"It also helps us quantify the serious customers who are looking to have something done from the not-so-committed customers," Branigin says. "We explain to them that we're about to quantify the design, but then we'll actually quote the project once we get it to a point that it's a project they love."
What to consider
Before deciding on a design software, landscape contractors need to consider their budget in terms of time and money, according to Martin.
"What are they able to spend on design software for their company, and what are the time costs that are going to be required to learn it?" Martin says. "What kind of time do they have to learn a new program?"
Gilbey adds that contractors should also think about what features they're hoping to get out of the program.
"We always recommend that people look at the software capabilities from any of the solutions and figure out the maximum capacity of that software and the goals they have for technology and their practice," Gilbey says. "Does it do 2D and 3D design? Does it do material takeoffs? Does it enable you to do job costings? You may not necessarily want to learn everything you can possibly do before you get started, but you at least want to know that your software is capable of getting you there, as you continue to grow in your learning of the software."
Finally, it's important to consider the company computers' capabilities, Gilbey says.
"They need to be very cognizant of the capacity of their computer systems and how they expect to share information once they're done," Gilbey says. "Are they connected to the internet? Are they working with a good processor? Is there a video card? Will they be sharing files with people on paper? Do they need a printer where they can print their work? Do they expect to give clients PDF files? Will the software generate PDF files? Things like that really need to be part of that final decision-making process."
While some companies make incremental changes, Gilbey notes that companies should also think of design software in terms of where they want their companies to be in the future.
"I would caution people to find solutions that enable the capacity in the future without having to go from one software application to another because that continual change can be very halting to their overall workflows," Gilbey says.
Onboarding
Once contractors have landed on a software that fits their company, they should prepare for the onboarding process.
"What we sometimes see is that the burden to change, especially if you're used to doing something by hand, can be sometimes hard to overcome, especially with the time demands if someone is running or working in a business," Martin says. "However, not taking the time to learn it and implement it is a challenge, but then it also ends up being a wasted opportunity for designers by not forcing themselves to spend the time they need to learn."
Gilbey estimates that if someone is committed to learning the software 40 hours a week, they should have it down within a couple weeks. However, he acknowledges that many designers don't have that kind of time to commit to learning a new program.
"In those cases, they might be looking at about two hours a day that they can commit, and that is probably going to take closer to two months to learn," Gilbey says. "We always recommend when you're learning the process to use it on a sample project, so every time you're learning something, you're also physically doing it versus only watching a tutorial of it."
No matter someone's learning style, Gilbey notes that there is a solution to help learn the software.
"Software providers have online tutorials that allow designers to do self-paced work. You also have the ability to connect with a training professional," Gilbey says. "We also see a trend called user groups to help each other through the technology. Being able to find your community of fellow users can be very beneficial because even though a trainer is going to show you the best practice way of how to do something, a fellow user might say, 'I learned that, too, but here's my little trick.' Then they find different ways to be more proficient, and they have some other people to lean on."