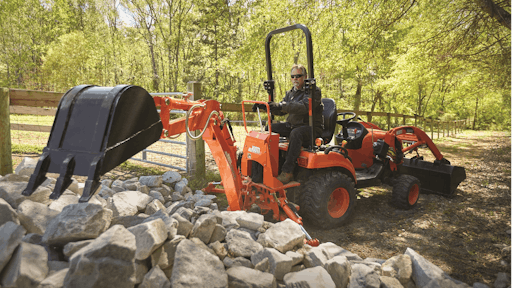 A compact tractor can help drive productivity on a variety of landscaping jobsites. The ability to dig, lift and transport doesn't even scratch the surface. Compact tractors can also power a long list of attachments to help perform installation, irrigation, tree care, lawn care, maintenance and snow removal services.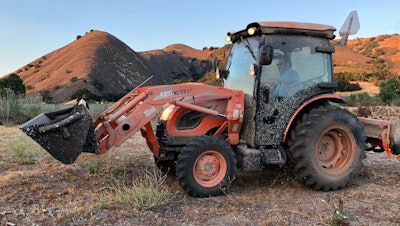 "Due to their wide variety of capabilities, compact tractors are popular among amateur and professional landscapers alike," says Joel Hicks, product development manager at Kioti, a manufacturer of tractors, zero-turn mowers, utility vehicles and attachments. "There are various attachments available for any landscaping need you may have throughout the seasons."
Hicks says attachments are typically less expensive for compact tractors than other heavy iron, but still provide the reliability landscape contractors require. "We offer an array of implements and attachment options including front-end loaders and backhoes, mowers, box blades, stump grinders, landscape rakes and more," Hicks says.
John Deere's iMatch Quick-Hitch system and iMatch AutoHitch system simplify the process of connecting attachments. John Deere offers a long list of attachments including loaders, grapple buckets, forks, blades, scrapers, tillers, posthole diggers, rakes, aerators, spreaders and overseeders.
In the off-season, compact tractors can be used for snow removal operations. "Blades, blowers, snow pushers and brooms help keep grounds clear in the heaviest of snow," says Ray Gherardini, product marketing manager for John Deere. "Tractors are also available with heated cabs, allowing operators to stay productive in all conditions. The true benefit of a compact utility tractor is its ability to tackle a variety of jobs in any season."
Versatility and Productivity
As versatile and productive as a compact utility tractor can be, landscape contractors have alternatives that offer similar benefits. According to Gherardini, choosing between a compact tractor, skid steer or track loader is dependent on a landscape contractor's specific needs—as well as the jobs they most frequently perform.
"It is important for contractors to evaluate their needs and work with a dealer who can help them determine the best solution for their business," Gherardini says. Manufacturers that offer both tractors and loaders, such as John Deere, can offer an advantage. "A John Deere dealer can walk through each machine type and discuss the pros and cons, as well as let the customer test each machine to determine what they prefer," Gherardini adds.
One discussion point should be the types of properties a landscape contractor is working on. Is ground pressure a concern on the typical property? What about the size of the space the equipment will be working in? How quickly will the operator need to move around the area?
"A compact tractor's versatility and weight, compared to larger equipment, allow users to get a lot done without disturbing their turf," says Hicks.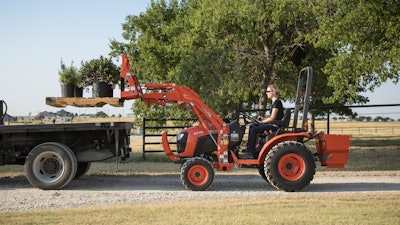 Compact tractors are also useful in getting from one place to another due to their higher ground speeds. "Compact tractors are better equipped for traveling up the road or around a neighborhood, since you can avoid having to transport the equipment multiple times," Hicks adds.
One of the main draws to compact tractors is their ability to perform different tasks without having to stop and change attachments. For instance, operators can simultaneously have a front-end loader with a bucket attached for earth moving and a cutter on the back to mow rougher terrains than their normal finish mower can handle.
Cost Comparison and Other Efficiencies
Ownership and operating cost is another important factor a contractor should evaluate. According to Gherardini, both a compact utility tractor and skid steer have a lower price tag than a compact track loader. However, it's important to not decide on price alone. "It's important to weigh the benefits, including the intended amount of use, to determine which machine offers the most value for the price," Gherardini says.
For example, a lower-priced skid steer won't be as effective as a track loader on more sensitive properties with existing turf. So the money saved at purchase would be negated by the fact that the machine ends up underutilized. That's why it's important to look at the type of work the machine will be doing, as well as the types of properties it will be working on. The machine with the highest value will allow the contractor to generate the most revenue over a period of time.
If a landscape contractor is looking to primarily do a lot of lifting and loading, it's obviously important to look at lifting capacity. While skid steer manufacturers typically offer some larger models with more capacity, compact tractors generally match up well with those smaller models that are geared more toward landscaping applications.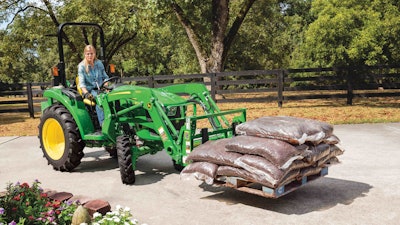 For example, John Deere's new 3D Series of compact utility tractors has a lifting capacity (rated operating capacity) of 1,670 pounds. The company's 3E Series of tractors, ideal for landscaping applications, has a lifting capacity of 1,356 pounds. John Deere's 3R Series of premium compact tractors have a lifting capacity of 2,194 pounds. With respect to skid steers, John Deere's smallest and lowest-priced model, the 312GR, has a lifting capacity of roughly 1,550 pounds. At the large end of Deere's skid steer lineup, the 332G has a lifting capacity of 3,600 pounds.
Hicks says Kioti's CK10 Series of tractors is ideal for the small to medium-size contractor. "With this series, you are looking at a three-point hitch lifting capacity of 1,200 to 1,600 pounds. Our DK10SE Series provides a lifting capacity of up to 2,600 pounds," Hicks points out.
Professional users can generally expect a long, productive life out of their compact tractor. But as Hicks points out, life expectancy depends on annual usage. Maintenance has a big impact too. "On average, landscaping businesses rotate their equipment every five to 10 years, which is well within the life of the equipment. With proper maintenance and care of the machine, it is not unusual to get more than 10 years out of a compact tractor," Hicks says.
On that note, Hicks says maintenance is typically easier and less costly for compact tractors as compared to skid steers and track loaders.
Another factor that affects ownership cost is the residual value of a piece of equipment. Gherardini says there is a strong used market for compact tractors. This type of equipment is used by a variety of customer segments, from contractors and nurseries to small ag and rural property owners. At the same time, buying a used machine might be a good option for a landscape contractor in the first place. "Contractors should talk with their dealers about their used inventory," Gherardini says.
One potential downside to a compact tractor is transporting and storage. "A key benefit of a skid steer or compact track loader is that these machines are available in a small size," Gherardini points out. "Compact utility tractors are often larger, especially with loader and backhoe implements." Contractors should talk to their dealers about the trailering requirements of the machines they are looking at.
Choosing the right equipment for your landscaping needs can be a difficult and confusing task. As always, landscape contractors should focus on ownership and operating costs, utility, productivity and safety, as well as the ability to generate revenue.
"Of all the landscaping equipment, a compact tractor is by far the most versatile," Hicks says. "They have high performance capabilities, ergonomic design and operation, and maneuverability around a lawn. Compact tractors allow you to expand your landscaping capabilities by simply buying additional attachments. Compact tractors are the straight-forward, easy-to-use solution for your landscaping needs."
If a compact tractor is what you are looking for. Here are some tips on what more to look for when making a selection.
Companies in this article