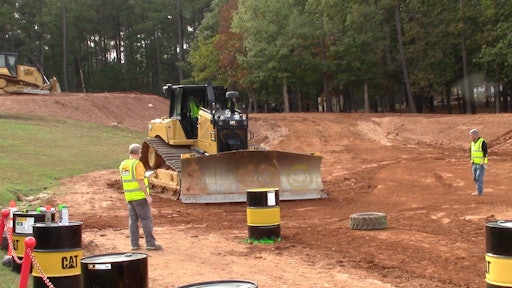 Earlier in 2019, Caterpillar kicked off its first ever Global Operator Challenge. The competition brought together heavy equipment operators from all over the world to compete in challenges that tested the operators' skills in agility, mental toughness, versatility and competence using integrated technology.

The first level of competition started at local Cat dealers around the globe. Operators who qualified in the local competitions then moved on to the regional semi-finals held in Japan, Brazil, Spain and the United States. The North American regional semi-final took place at Caterpillar's Clayton, NC, facility in October 2019.
Jaus Neigum of Alberta, Canada, is the Western Regional finalist, and Ben Sandy from North Carolina is the Eastern Regional finalist.
Neigum and Sandy will join seven other regional finalist from around the world in Las Vegas at CONEXPO-CON/AGG in March 2020. The nine finalist will compete for the top spot to be named the "best" Caterpillar equipment operator. The winner will receive an all-expense "VIP" trip for two to a global Caterpillar facility of his or her choice.
The grand prize isn't the only driving force for operators to participate in the Global Operator Challenge. In a panel discussion during the North American regional semi-final, semi-finalists discussed the importance of "bragging rights." Participating and succeeding in a challenge like this shows the operators, their co-workers and the industry that these operators are at the top of their games. Plus, as the panelists pointed out, it affirmed for the operators where their skill levels are at and how far they've come since they started.
Plus, it's fun. The panelists said they want more competitions like this one. Maybe a competition every few months, they joked. Any future competitions will have a larger competition pool as well. "I've got at least 20 guys ready to sign up for the next one," said James Billings, a North American regional semi-finalist from Seattle.
Be sure to check back on GreenIndustryPros.com and our sister site ForConstructionPros.com in March to see coverage of the Caterpillar Global Operator Challenge finals competition.