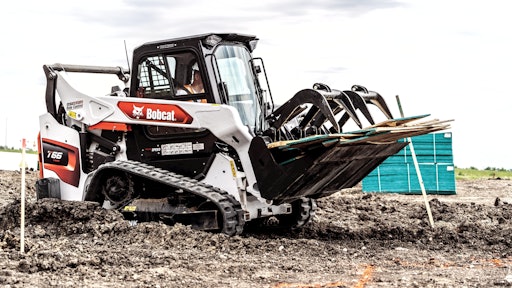 Bobcat
To experienced equipment operators, compact machines may drum up images of cramped operator environments, minimal comfort features and rudimentary controls. However, manufacturers have been rapidly evolving the operator environment to maximize every inch of available space, while providing features found in much larger machines, such as climate control, pressurized cabs and sophisticated touchpad controls.
Comfort is key to operator retention. "Many operators seek the same comfort features they enjoy in their automobile," says Sarah Peckskamp, marketing manager – loaders, Bobcat. "When we designed the R-Series loaders, we kept this in mind by offering a roomy, sealed and pressurized cab environment with an air-ride seat, heating and cooling options and eye-level push-button controls." Other automotive-style features include standard keyless start and LED lighting.
Compact equipment offers very little space for designers to utilize. "As we design cabs for our compact machines, it's vital that we utilize every inch of space for maximum operator comfort and configure operator controls in a way that maximizes functionality in an ergonomic way," says John Dotto, Wacker Neuson product application and training specialist. "Wacker Neuson employs engineers with specialties in ergonomic design and it leads us to do things like maximize floor space in our skid steers and compact track loaders (CTLs) in order to keep an operator's feet and legs in an optimal position throughout the work day. Operator comfort has a direct impact on productivity, and the more we utilize the basic principles of ergonomics specific to the type of equipment we build, the greater productivity we can provide our customers."
As manufacturers update their compact machines, the operator environment has become a major point of focus. Case recently introduced a new lineup of skid steers and CTLs that feature many changes to the operator environment. "These new Case B Series loaders feature a completely redesigned operator interface, including new left- and right-hand posts with simple ignition, push-button operation, easy throttle control and intuitive switches for all core machine functions," says George MacIntyre, product manager for compact equipment, Case Construction Equipment.
Operator-focused designs place an emphasis on ergonomics. "Case features one of the widest CTL cabs in the industry, providing excellent space for more comfort and operator positioning," says MacIntyre. "Joysticks on electrohydraulic models have been designed with a narrower, more comfortable grip, closer switch layout and a smaller head size for easier operation. The electrohydraulic pods on each joystick have also been made smaller to give the operator more legroom inside the machine."
More Control at Your Fingertips
Multi-function displays in the latest generation of compact machines provide simplified machine customization. The displays and touchpad controls allow operators to tailor machine operations to match the application and operator preferences.
Wacker Neuson provides a wide range of adjustment options on its loaders. "Adjustments that can be made from inside the cab include speed and sensitivity setting to the drive (propulsion), steering and work group (arms and bucket) controls," says Dotto. "Profile settings can be saved for a specific operator when using a unique log-in code for machines equipped with our 5.7-in. color display."
Compact excavators also host a wide range of customizable features that mirror those on their full-size counterparts. "On Wacker Neuson's newest mini-excavator models, the full-color displays offer the operator some really great customizable settings to get a machine dialed in to exactly the type of work they need to get done," says Dotto. "Our programmable auxiliary flow settings allow for flow rate settings to be set specific to the attachment you're running. Icons for attachments such as swivel buckets, hammers, augers, etc., can all be assigned different flow rates and characteristics. For example, when switching from a hammer to an auger, you can simply select the auger icon and your pre-programmed flow rate and two-way flow are available at the touch of a button. There are no valves to manually adjust or flow calibration necessary."
Other advanced features on compact excavators with advanced displays include programmability of the dozer blade flow rate and joystick response. "With this level of customization, an operator has many tools available to get their machine optimized for the type of work they do, as well as their personal preferences, which has a net result of greater productivity and profitability," says Dotto.
Bobcat R-Series loaders come equipped with a standard 5-in. LCD cab display panel that provides full-featured machine interaction and monitoring capabilities. "Diagnostics and detailed operation information can be accessed through the display including monitoring, troubleshooting and error conditions," says Peckskamp. The display also supports multiple languages.
R-Series loaders can be equipped with a Touch Display option. "The Touch Display allows owners and operators to receive detailed machine information and monitoring capabilities plus experience unprecedented device connectivity with the new 7-in. touch panel," says Peckskamp. "The wide and easy to use screen is waterproof and hardened to reduce scratching. Operators can view and toggle through machine performance information that makes operation efficient and productive.
"The Touch Display allows owners to set a new clock for each job, giving them an easy way to track machine productivity and employee performance," she continues. "Owners can also track total number of engine hours, idle hour, fuel used and average gallons per hour per operator."
Other features include:
On-screen attachment control
Increased phone and device connectivity
Seamless integration with rear view camera
Integrated radio
Day and night modes
20 unique operator codes
Active noise cancelling during phone calls
Quick contacts
Favorite screens for easy access
Screen durability and glove sensitivity
Feature lockouts
Detailed fault code information
Multiple language support
Jog shuttle
Timed screen lock
USB power port
The Case B Series multi-function display allows operators to make and act on decisions right from the operator seat. "The new display puts all essential information right at the operator's fingertips — from basic operational information such as engine hours and fluid levels to 'trip meters' and utilization data that provide fleet managers and operators greater insight into machine performance," says MacIntyre. "Electrohydraulic models provide the additional simplicity of switching between ISO and H operating patterns with the simple push of a button."
Being able to adjust machine control settings from inside the cab can bolster operator confidence. "Operators can set total machine responsiveness to low, moderate or aggressive, or independently set tilt, lift and drive speed, as well as loader arm and drive control to best meet the demands of the job," says MacIntyre. "A creep speed feature allows the operator to set machine speed at a consistent/slow 'creep' while independently setting attachment speed via the throttle for optimal use of high-capacity hydraulic attachments."
He adds, "Operators can also store and recall specific setting profiles to match either individual operator preferences or job types."
Software Provides Upgradable Performance
The move toward software-driven features vs. hardware means that compact machines are becoming easier to upgrade. In many cases, increasing the performance of a machine or adding additional features may be possible with a simple software update.
Software engineers continue to produce updates for existing machines, which means owners should check that they have access to the most current updates. "Wacker Neuson engineers are continuously looking for enhancement and improvement opportunities, which include software updates to machine controls and in-cab displays," says Dotto. "Technicians should verify that the latest software is installed when a machine is going through its periodic maintenance to ensure that the machine is running at peak performance. Having the latest software updates allows operators to fine tune settings to suit their preference, level of experience and expectations from the machine."
Camera Technology Enhances Visibility
Rear view camera technology first gained popularity on larger machines such as full-sized wheel loaders. The hoods on these machines — especially when Tier 4 regulations introduced aftertreatment systems — created large blind spots, which rear view cameras eliminate, increasing safety on the jobsite. Now, rear view cameras are finding applications in the compact equipment market.
Many of the latest compact equipment introductions incorporate rear view camera technology. For instance, on the Case B Series loaders, a new 8-in. LCD multi-function display with backup camera comes with all electrohydraulic models, and can be added to mechanical configurations for use with the backup camera and operational displays.
The B Series display includes the industry's only backup camera visible in a split screen along with machine data, according to MacIntyre. "The camera is operational in both forward and reverse and enhances the
B Series' industry-leading visibility with even greater jobsite awareness," he asserts. "It also provides operators with the most fully functioned operator experience ever found in a Case CTL or skid steer."
All Bobcat R-Series loaders come rear camera ready. "Once installed, the optional rear camera integrates seamlessly with the in-cab display to provide an on-demand, automatic or continuous rear view," says Peckskamp.
But companies are not just relying on cameras. Visibility is always a priority when designing a cab. The R-Series features a new clear side enclosure option that reduces steel mesh screens from the side windows. "It allows operators a clearer view to the sides of the machine to help maneuver more confidently," says Peckskamp. "In addition, the arm linkage has been repositioned to the rear of the machine, allowing for an optimal view of the wheels or tracks."
Operator Comfort a Top Priority
A clean workspace that is neither too hot nor too cold goes a long way toward keeping workers focused on the task at hand. Pressurized cabs keep dust out, while improved HVAC systems ensure consistent temperatures in the operator environment.
"To optimize comfort, Wacker Neuson relies on direct customer feedback and input when we design operator stations," says Dotto. "One of the outputs of this direct feedback loop is seen in the way we design our air conditioning systems. On our newest mini-excavators, the design of the air conditioning system was an engineering priority with a focus on maximum cold air output in most hot and humid environments. The same is true for all new product development, with a specific focus on cold air with maximum airflow."
HVAC controls have replicated the simplicity of automotive controls. "In addition to traditional climate controls on many of our machines, some newer models offer automotive-style climate control where the operator can set a desired cab temperature," says Dotto. "The system then works to automatically maintain that temperature."
Designing better cab pressurization systems has also been a priority. Manufacturers are striving to increase the long-term integrity of these systems.
"Wacker Neuson skid-steer and compact track loader cabs are designed to maintain the best possible air seal over the lifetime of the loader by utilizing a single pod design," says Dotto. "Essentially, the entire cab is a modular unit that tips for service, floor and all. Cab designs that tip an upperstructure only while the cab floor remains integrated in the frame require a seal that can wear out over time, leading to a loss of pressurization that allows dust and pollutants into the operator space. Our 'pod'-style design eliminates the need for such a seal."
Bobcat R-Series loaders have a new one-piece, sealed and pressurized cab design. "It provides a near-seamless interior for a new level of operator comfort and improved service access," says Peckskamp. "The roomier deign offers a sealed and pressurized environment that repels dust and dirt in the cab, isolates the operator from engine and hydraulic noise and enhances the efficiency of heating and air conditioning. When it's time for maintenance or repairs, the entire R-Series cab rotates out of the way to provide improved access, with hardware on the cab exterior for easy removal."
In many cases, operators spend hours in the cab of a compact machine and it literally becomes their office.
"Operators have an expectation of comfort and convenience in the cabs of their machines," says Dotto. "The cab is essentially a mobile office, so features such as Bluetooth radios and plugs for charging cables are important. It's also important to have room for storage, a place to secure a phone and good-sized cup holders. It might sound simple, but sometimes it's the little things like this that make a big difference to an operator working a long day in a machine."