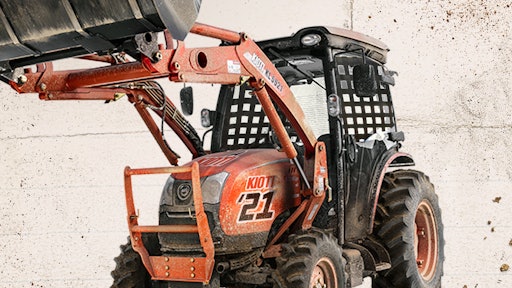 KIOTI Tractor
Celebrating the 60th anniversary of the Bristol Motor Speedway, the NASCAR Cup Series held a dirt race on March 28.
It was the first NASCAR race at the highest level in 51 years.
KIOTI Tractor played a part in the race, serving as the presenting sponsor for FOX's broadcast on March 29.
"KIOTI and our customers all share a passion for returning honor to the dirt," said Greg Bibee, KIOTI Tractor's director of strategic sales and marketing. "With this historic race demonstrating the awe and power dirt can bring, just as KIOTI customers do with their tractors and utility vehicles every day, we were thrilled to be a part of this unique event. KIOTI hopes viewers of the FOX broadcast are now inspired to get their own hands dirty and unleash the possibilities of dirt for themselves."
Whether splashing through a muddy creek on a K9 2400 UTV or prepping land with a CS2220 tractor, KIOTI's customers know that good things happen when dirt is involved. By serving the doers in communities across the continent with the best machine-owning experience, KIOTI is helping its customers unleash this potential.
So, when KIOTI heard that racing was returning to a dirt track for the first time in more than half a century, KIOTI said in a press release that they had to involved when it was going to get dirty.