Ditch Witch
Landscapers and contractors know that if you are looking to get on a jobsite, dig a trench, and move on, a walk-behind trencher is often the best and most efficient choice. However, there are some other machines that are growing in popularity on landscaping and installation jobs. Both stand-on skid steers and vacuum excavators are being used more and more to supplement traditional trenchers.
So, what is the best machine choice for your next job?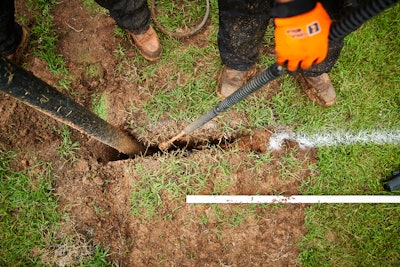 The short answer is that walk-behind trenchers, stand-on skid steers, and vacuum excavators each have their own benefits and places on jobsites. By understanding each machine's benefits and limitations, contractors can choose when to use one machine over the other. And by understanding best practices for each, they can help operators be safer and more efficient.
Trenching for Efficiency
When choosing the right equipment for your jobsite, it's important to consider the nature of your project. Does your project require versatility, or would a single-purpose machine get the job done? If the latter, contractors and homeowners should consider renting a walk-behind trencher. Not only is it a more affordable option than its stand-on skid steer relative, it's also built with the power needed to quickly make a cut and move on to the next project.
The walk-behind trencher's dedicated chain, teeth, and sprocket combination are specifically designed to work together to make trenching as efficient as possible. Its reliability is one reason why homeowners and contractors choose this machine. It is best suited in situations where operators are looking to spend the least amount of time and labor on the jobsite, and it's beneficial for completing trenching-intensive tasks like installing plumbing, irrigation lines, water lines, pipes, and other utilities.
When operating a walk-behind trencher, ensuring that operators safely follow best practices is the easiest way to be successful on the jobsite. It is recommended operators go slowly, never force a cut, and let the machine do the work. This will keep machines working efficiently and help minimize wear and tear and downtime.
Versatility to do More
If trenching is just one of several capabilities you want in a piece of equipment, you should consider a stand-on skid steer with a trencher attachment. A stand-on skid steer with a trencher attachment is an ideal fit for jobs that only require a trench of around 50 yards and/or a jobsite that will have a range of tasks. For example, if a job requires not only trenching, but backfilling, moving utilities, or putting a yard back together, a stand-on skid steer will be the right choice due to its versatile nature.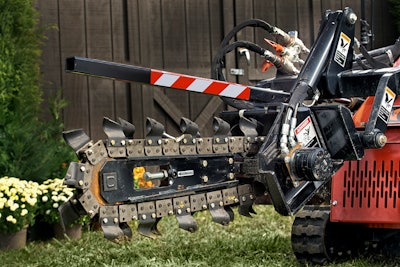 With the ability to effortlessly switch attachments through an automated latching system, operators can efficiently jump from one project to the next. From a trencher to a bucket, auger or fork, operators can benefit from the versatility these machines offer and handle countless tasks with ease. Their increased maneuverability and visibility provide operators with an unobstructed view of the jobsite, helping boost productivity when working in residential, space-restricted areas where obstacle avoidance is necessary.
When trenching with a stand-on skid steer, it is essential for operators to follow best practices to help maximize operator safety. Additionally, it's important to check that the plate is clean and the pins holding the attachment are engaged. This reduces the risk of the attachment falling off while in motion.
Also, operators should always ensure that the flat-faced couplers are clean before connecting the hydraulic hoses. This not only helps reduce the risk of contamination, but also helps keep the machine's attachment working properly.
Damage Prevention and Completing the Trench
Vacuum excavators have historically been used on HDD jobsites for damage prevention and jobsite cleanup. However, with their variety of uses, vacuum excavators are starting to become more important on jobsites that include trench digging. From damage prevention to close proximity trenching, vacuum excavators can be an essential tool from the start and finish of any trenching job.
Before landscapers and homeowners can even begin trenching, it is essential to uncover any existing utilizes that could be damaged during the cut. With an air- or hydro-vacuum excavator, operators can expose any utilities to ensure jobsite safety. Using a vacuum excavator is essential when working on projects that include rehabilitation or when operators know that there is already existing material underground.
Additionally, when trenching up against a structure such as a house, shed, or fence, it can be difficult to get your walk-behind trencher or stand-on skid steer to finish the last 1 to 2 feet, due to its size. With the flexibility of a vacuum excavator, operators are able to successfully complete these challenging trenches.
Choosing for the Jobsite
When choosing between renting a walk-behind trencher or a stand-on skid steer with a trencher attachment, it is essential for operators to understand their jobsite and project needs. If homeowners and landscapers need a machine that will effectively and efficiently cut a trench, then a walk-behind trenching machine is the best solution. If an operator not only has to cut a trench, but also put a yard back together, a stand-on skid steer's versatility might be the most beneficial. And vacuum excavators are the best machine for damage mitigation and close-proximity trenching.
While each machine has their own unique function and specific role on the jobsite, knowing the best situation for the use of each and machine best practices are essential for jobsite success.