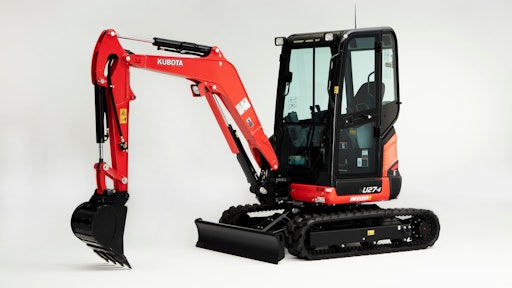 Excavators are one of the most important tools a landscaping company needs. These powerful machines come in three sizes: compact excavators, mid-size excavators and large excavators. They can completely transform a residential landscape for the better. Landscaping projects of all sizes can increase a home's resale value by 14 percent and excavators are perfect for these tasks.
It's important to select the right machine for landscaping tasks, however, and know what size excavator you need. Landscaping companies rely on compact excavators for the majority of their work, but larger machines can be great for clearing land for major projects.
"When properly matched to the project, there really are no limitations to what these machines can do," said Jeff Jacobsmeyer, a product manager at Kubota. "Advanced load-sensing hydraulics with an adjustable auxiliary flow allows the operator to dial in the flow rate needed for any attachment."
In addition to size and specs, you should focus on a few other aspects when selecting an excavator. "It's very important to get into the machine, and operate it to see how it feels and performs," added Jason Boerger, marketing manager for Bobcat Company. "Just like you wouldn't buy a car without test-driving it first, you shouldn't buy a compact excavator without doing the same."
To read the full original article, please click here.