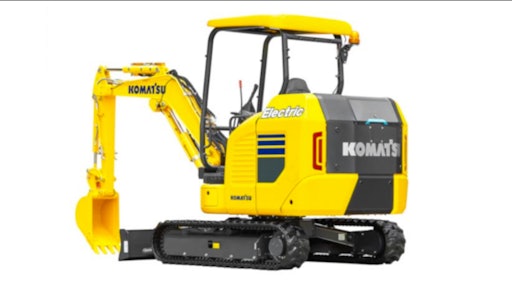 Komatsu combines its experience with hybrid construction equipment and electric forklift trucks to develop a 5-ton all-electric mini excavator. Komatsu developed the charger, high-voltage converter and other devices to deliver excavation performance on par with the internal-combustion model of the same power output, while achieving zero exhaust emissions and a dramatic reduction in noise.
The new electric mini excavator uses the easy-maintenance battery that powers the Komatsu FE-Series electric forklift trucks. From a full charge, this battery enables two to six hours of run time (depending on operating conditions). The battery also allows for quick charging, for example, during a lunch break, extending available working hours.
The machine allows for real-time monitoring of power consumption and charging conditions on its cab monitor panel. It also allows for remote monitoring of that information and machine location and operating conditions via KOMTRAX.
As all high-voltage devices are mounted in the rear of the mini excavator, there is no need for operators to touch any of them during daily checks before starting work, which offers improved safety and serviceability.
Komatsu is currently testing this model at customer jobsites, with intent to launch it commercially.
Weight: 10,428 lb.
Bucket capacity: 3.2 cu. ft.
Motor output: 24.4 hp