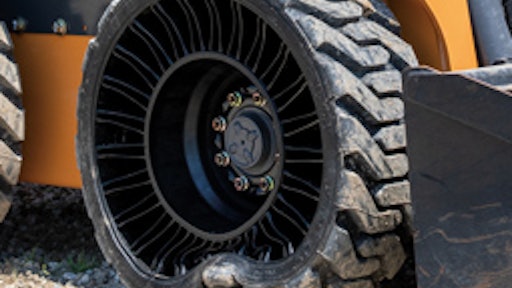 The Michelin X Tweel SSL 2 airless radial tire is one single unit, replacing the current tire/wheel/valve assembly. There is no need for complex wheel/tire mounting equipment and once the Tweel unit is bolted on, there is no air pressure to maintain. Tweel SSL 2 airless radial tires are available in two tread patterns: all terrain and hard surface traction. Benefits include:
Hard-surface models comes in a 12N16.5 with a 48/32 tread depth and 8/32 of undertread.
All-terrain is constructed with 12N16.5 with a 31/32-inch tread depth and 12/32 undertread.
Maximum load is 4,400 pounds
Improved shear beam construction engineered to maximize core life.
New spoke material helps provide up to 10 times greater spoke life compared to the previous models
Interlocked hub designed to increase durability in demanding conditions.
Outstanding stability contributes to high machine productivity.
Unique spoke design helps reduce "bounce" and driver fatigue associated with pneumatic tires
Consistent footprint, with tread designed to last 2-3 times longer than a pneumatic tire at equal tread depth, and capable of being retreaded.
Request More Information
Fill out the form below to request more information about
Michelin X Tweel SSL 2 Skid Steer Tire