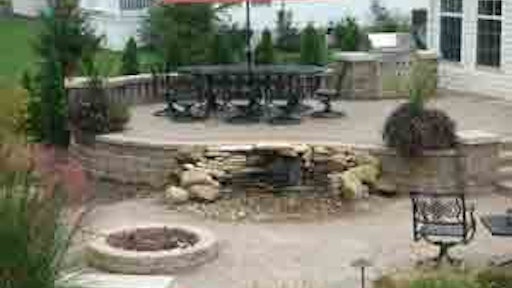 Planning to spend even more time at home, many consumers are looking to invest in more expansive outdoor living spaces. Here's how you can tap into this market with minimal outlay.
According to the American Society of Landscape Architects (ASLA), more and more consumers are looking to create expanded outdoor living rooms for entertaining and simple family gatherings. By helping homeowners create their ideal outdoor environment, landscape contractors can upsell current customers and attract new ones.
The Hearth, Patio & Barbecue Association says the entire "leisure lifestyle" industry, has grown significantly since 2002. The concept of "outdoor living" now goes way beyond a simple picnic table and set of folding chairs.
Whether it's new construction or an existing landscape, there are several easy-to-install, relatively low-cost products that can greatly add to an outdoor living area. And more importantly, they can typically be incorporated into your landscape designs at an above-average margin.
Out in California, one landscape supply distributor has been focused on assembling a trendy product offering designed to help its landscape customers reshape and grow their businesses by tapping into the flourishing outdoor living market. In addition to irrigation supplies, Hydro-Scape now offers everything from BBQ grills to fountains to lighting.
Outdoor Kitchen Elements

Included in Hydro-Scape's product offering is everything a landscaper would need to create a complete BBQ island. Hydro-Scape even provides poly gas pipe fusion training. Some landscapers have the design ability but aren't sure how to put it all together. Training helps them become certified pretty easily. Ask your area suppliers what kinds of products and training they have available.
The cost of an outdoor kitchen can vary greatly depending on what the consumer is looking for—and is willing to spend. Basics include a grill and kitchen island, and maybe a sink and refrigerator. Prefabricated kitchen islands like those offered by Hydro-Scape greatly simplify the installation process. Still, many skilled contractors with larger-budget customers are customizing their own, right down to the decorative countertops and flooring.
Perhaps you've seen them at popular restaurants such as Macaroni Grill, Paparazzi (Boston) and Little Azio (Atlanta), but wood-burning brick ovens are also making their way onto the residential setting. Since 1981, Renato Ovens Inc., based in Garland, TX, is helping bring this age-old tradition up to date. Italian-born Renato Riccio, president and founder of the company, says the growing trend toward a more natural, healthy lifestyle has brought about a demand for wood-fired cooking.
Renato has incorporated American electronic ingenuity into his products. By adding temperature controls, safety features and a gas option, Renato's products—Wood-Coal-Gas-Infra Red Fired Brick Pizza Ovens, Rotisseries and Charbroilers—are adaptable to large restaurants and family kitchens indoors and outdoors alike.
Fire pits and fireplaces, which extend the outdoor season, are equally popular. The Blue Rooster Co., based in Granite Falls, MN, manufactures a variety of these products. The company says there are a few important considerations to make before selecting an outdoor fireplace:
How will it hold up to the elements? Blue Rooster fireplaces, for example, are made from hand-poured cast iron or aluminum alloy, so they won't rust, require less maintenance and can be moved around easily, which is really helpful in a rain or wind storm.
Consider the size of the firebox. A small firebox could make things more difficult for your customer as wood may need to be specially cut or ordered in smaller pieces. Blue Rooster says its outdoor fireplaces hold the standard 16- to 18-inch logs you'd use for an indoor fireplace.
Consider the weight of the unit. Obviously, the heavier it is the more heavy-duty and durable it will be. Be careful not to compare apples to oranges, however. Evaluate a cast iron model with another cast iron model, a clay model with a clay model, etc.
Water Features

A variety of water features can also help transform a boring backyard into an on-site resort. Elaborate garden ponds and waterfalls are becoming common in landscape designs. But even to the novice waterscaper, beautiful water features are a possibility. Plus, they can be highly profitable for a landscaper to install.
In addition to backyard living spaces, condos are a place where simple water features can often be a relatively easy sell.
In some instances, typically with higher-end clients, landscapers are incorporating mist systems into their backyard designs. Introduced more than 50 years ago, mist machines were originally created to help cool livestock. The concept has since expanded to include humidification, dust control, special effects, and to cool people down at resorts, restaurants, theme parks, and now outdoor living spaces.
Landscape Lighting

Want to make it even more dramatic? Add landscape lighting. Light installation is actually quite simple in many instances—primarily as a result of developments in lamp technology.
There's been somewhat of a shift from halogen flood lights to LED technology. LED landscape fixtures are ideal for outdoor settings because they can be modified and installed with a low-voltage setup. Secondly, their lower heat emission—compared with incandescent, fluorescent and halogen—is an influential factor.
Perhaps the biggest benefit of LED is energy savings. LED lamps might cost a bit more (sometimes up to 20%), but the longer-term energy savings for the consumer is much greater.
In landscaping, the following lighting scenarios are the most common:
Path lighting – used to light up areas such as walkways, patios and pool paving; lights should be placed in planting beds, as opposed to lawns where they can be hit by a mower
Up lights – ideal for accenting ornamental trees
Accent lights – illuminate special landscape features such as garden ornaments and hardscape elements
Down lights – create downward light on trees
Architectural lighting – provides light on the residence.
Companies in this article