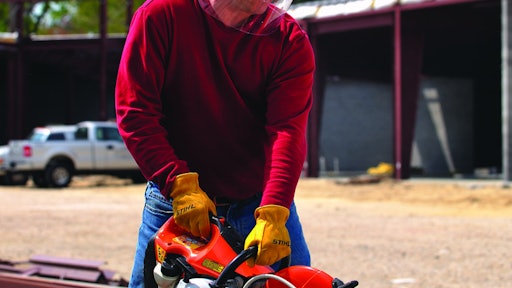 Following the recommended maintenance schedule can help improve the safety, performance and lifespan of your concrete saw. While serious repairs should be left to your servicing dealer, routine maintenance can be carried out by you and your crews. Here are some things you should be doing.
Keep it clean. Clean the machine daily by rinsing it with cool water after you've finished working. Also, clean the cooling air intake when needed, checking it on a daily basis.
Daily inspections. Ensure that nuts and screws are tight. Make sure the cutting blade is fitting correctly and shows no signs of damage. Visually inspect the blade guard for signs of damage as well. Finally, ensure that important safety features are functioning properly, such as the throttle trigger lock and engine stop switch.
Weekly inspections. The tension of a new drive belt should be readjusted after one or two tanks of fuel have been used—and then on a weekly basis. Consult your operator's manual for instructions on how to do this, or ask your servicing dealer to show you.
Visually inspect both the muffler and vibration dampening system for cracks or other damage. Make sure that both are properly secured.
When the engine lacks power or accelerates poorly, it might be the carburetor. First, check the air filter and replace if necessary. But when that doesn't help, contact your servicing dealer to see about getting the carburetor cleaned.
Keep an eye on the starter cord. If it's showing signs of wear, it's time to replace it. Consult your operator's manual for instructions on how to do this, or ask your servicing dealer to show you.
Monthly inspections. If your saw is hard to start, runs poorly at idle or is low on power, take a look at the spark plug. First, ensure that the spark plug cap and ignition lead are undamaged to avoid the risk of electric shock. Then, if the spark plug is dirty, clean it; this will likely have to be done on at least a monthly basis. In the event that you have to replace the spark plug, always use one that's recommended by the saw manufacturer.
Regarding the fuel system, visually inspect the fuel hose, fuel cap and seal. They will need to be replaced if there is any damage. The fuel filter, which sits inside of the fuel tank, will need to be replaced when it becomes clogged, or otherwise once per year.
Your air filter should also be checked monthly—especially if you're experiencing a loss of power. If that is the case, you'll probably need to replace it. Never try to clean it off by blowing compressed air on it; that force will likely damage the filter.
Finally, check the drive gear and clutch for excessive wear.
EDITOR'S NOTE: This article includes merely a quick overview of basic preventive maintenance procedures. As always—read, understand and follow the instructions in your operator's manual, and consult your servicing dealer.