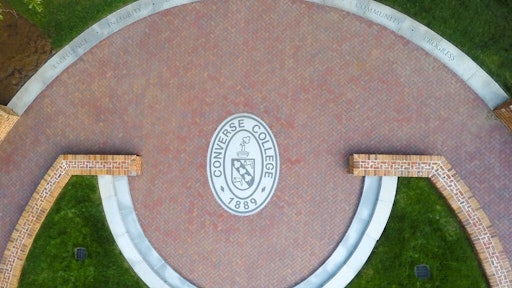 Pine Brick Industry Association
Update: Two of the projects won second awards at the 2015 Hardscape North America (HNA) trade show, which was held in Louisville, KY, on Oct. 22-23. The Johnson Plaza project at Converse College, won in the Clay Brick–Commercial category. While the the Lincoln Park Zoo, won in the Clay Brick–Permeable–Residential/Commercial category. Both projects and companies were recognized at HNA.
---
Pine Hall Brick Company (PHB) say that they were well-represented in the Brick in Architecture Awards from the Brick Industry Association (BIA), a national trade group. The BIA announced that products from PHB were chosen for projects that won one Best in Class and two Silver Awards.
The competition honors the best in brick design across North America. This year, the competition saw the entry of more than 100 separate projects, which were reviewed by an independent panel of judges. Established in 1989, the award recognized 49 winners from 21 states.
The project winners that used PHB products included:
The Best in Class Awards recognized the Johnson Plaza project at Converse College in Spartanburg, SC in the Paving & Landscape category. It recognized architect and landscape architect SeamonWhiteside, builder and mason contractor Roebuck Wholesale Nursery and Landscaping and paver manufacturer Pine Hall Brick Company.
The first Silver Award recognized St. Patrick's Catholic Church in Fayetteville, NC, in the Houses of Worship category. It recognized architect WKWW Architects, builder Ellis Walker, mason contractor Simmons Masonry, paver and face brick manufacturer Pine Hall Brick Company and distributor Lee Brick and Tile Company.
The second Silver Award recognized the Lincoln Park Zoo in Chicago, IL, in the Paving & Landscaping Category.  It recognized architect Eight Architects Inc., landscape architect The Portico Group, builder Pepper Construction Company, mason contractor LPS Pavement Company and paver manufacturer Pine Hall Brick Company.
"Each of the products used in these projects adds not only aesthetic beauty and durability in a number of different kinds of uses, but each is an example of green construction," said Walt Steele, paver business manager of PHB. "Each is made of clay and water, both readily available materials, and each lasts virtually forever, which is the definition of sustainability."
Ray Leonhard, BIA's president and CEO, said that today's best designers use brick as a way to translate their ideas into useful projects. "Fired clay brick is an abundant natural resource that offers architects the aesthetic flexibility to inspire stellar and sustainable design."
Best in Class winners will receive national recognition through a special Brick in Architecture insert in the December 2015 issue of Architect magazine. Other winners will be listed in the insert, as well as in Brick News Online. All entrants will be featured on BIA's online Brick Photo Gallery.