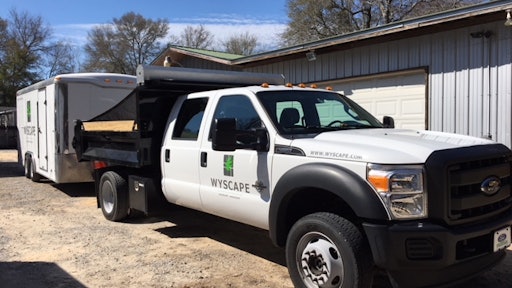 Wyscape LLC of Niceville, Florida, continuously strives to be the best the Sunshine State has to offer. Landon Wise, president of the landscaping company, also strives to provide the best equipment to his crews to cover the needs of its landscape, hardscape and irrigation service customers.
Because of the scope of its services and the size of its client base, the business runs more than one crew and trailer. In fact, one of the company's trailers is intended specifically for landscape and hardscape installation projects. Although the trailer is packed with a lot of essentials, there is a place for everything and everything in its place. According to Wise, this trailer carries:
An iQ Power Tools iQ360 dust control saw, which eliminates most of the dust produced cutting pavers and stone for a healthier and cleaner work environment.
A Spectra laser and stand for leveling and grading.
A tree watering gun that the crew uses to remove air pockets around root balls.
A STIHL demo saw for cutting pavers and stone.
A PaverPACKER 50 plate compactor from PAVE TECH to compact base material on smaller projects, setting pavers in bedding sand and compacting sand in joints.
An angle grinder for detailed cuts of pavers, pipes and more.
A Bosch jackhammer to break up concrete in small areas.
A

STIHL

backpack blower to clean up the jobsite when done working.
A chain saw for cutting trees and wood.
A paver extractor to remove pavers.
A paver grabber to stack and load pavers.
A QuickDRAW paver scribe to precisely mark pavers for cutting.
A paver pounder to compact the base in small areas and tight corners where the paver compactor doesn't fit.
A paver adjuster to push pavers in a straight line.
Irrigation equipment.
Safety equipment.
The iQ360 dust control saw is Wise's favorite. He says, "It's a powerful piece of equipment. It can cut stone, brick, pavers and tiles—all while collecting their dust," but it's the Spectra laser he couldn't live without due to its fast leveling and grading. Regardless, he looks for the same three qualities before he makes an equipment purchase—ease of operation, low maintenance and good customer service. And that's a wise decision on his part.
Company Name: Wyscape LLC
Owner: Landon Wise
Location: Niceville, Florida
Years in Business: 13 years
Geographical Coverage: Okaloosa and Walton counties, Florida
Type of Clients: Residential and commercial clients, as well as homeowner's associations
Services Rendered: Landscape, hardscape and irrigation services
Companies in this article