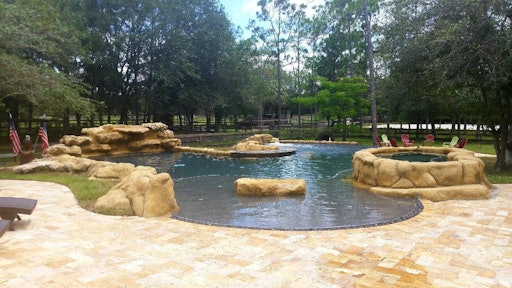 Pool Crafters provides finely detailed, high-quality pools to residents in the West Palm Beach, Florida area, specializing in vanishing-edge, 360-degree spillover deck-level pools, natural rock pools, water parks and entrance water features for high-end developments.
This second-generation pool company was founded in 1962 by Charles D. Miller and is now operated by Rock Miller. Just like an artist with a paintbrush and canvas, the work Rock Miller, owner and president, does with concrete, sand and seashells to shape rocks and waterfalls takes passion and skill, and is nothing short of a masterpiece. But creating his masterpieces wasn't always easy.
The Challenge
To apply material in those detailed areas, the company was using its concrete piston pumps, which certainly sped up the process compared to the hand-packing method the company used in previous years. But over time, Miller realized it was no longer the best solution for shaping the rocks and waterfalls.
The process starts with setting up rebar to extend every 6 inches from the pool's beam. Miller then ties and shapes rebar into rocks and rock waterfalls, careful to round any sharp edges before using the high-pressure piston pump to spray the concrete. The rocks are then waterproofed, colored and texturized with a combination of sand and seashells from the beach and a cement product. This forms Miller's specialty—artificial Palm Beach Cap Rock. It's a popular item for Miller, as sandstone found in authentic Palm Beach Cap Rock absorbs water—a problem owners of older pools made with this rock are experiencing.
The issue came when Miller had to apply the concrete. He had to run the piston pumps at full throttle to pump a 2- or 3-inch slump, and would end up with too much material. It was also too fast, pumping as much as 20 cubic yards per hour. The pools' detailed work took time and Miller, now in his 60s, wanted to slow down the process so he could achieve high-quality results as close to nature as possible.
The Solution
While searching YouTube for an answer, Miller stumbled upon Blastcrete Equipment, an Alabama-based concrete-pumping equipment manufacturer. Miller and the manufacturer had many conversations about possible solutions, including a squeeze pump that offered a 0- to 12-yard-per-hour output. After Blastcrete dispelledthe myth that a squeeze pump couldn't handle the crushed limestone found in concrete in the South, Pool Crafters purchased the D6528.
The machine is a mixer and pump in one unit that Miller powers with his T550 Bobcat compact track loader. This setup minimizes operation costs and is more cost-effective than purchasing a stand-alone pumping unit.
The squeeze pump allows Miller to slow his work to 5 or 6 yards of concrete pumped per hour, allowing more time for detailed shaping. He also benefits from the minimal maintenance the pump requires. Unlike piston pumps that contain several wear parts, squeeze pumps only contain one—the rubber pumping tube—making them the most economical concrete pumps to own. On average, maintenance costs are less than $1 per cubic yard of pumped material. Also, because the pump only has one wear part, if there is an issue, Miller knows exactly where to look.
With the demand for swimming pool repairs and new pools in West Palm Beach growing, Pool Crafters now has the right tool to optimize its process and profits on any project.
Arielle Windham frequently writes for the cement and landscape industries. For more information on Blastcrete Equipment LLC, please visit www.blastcrete.com.