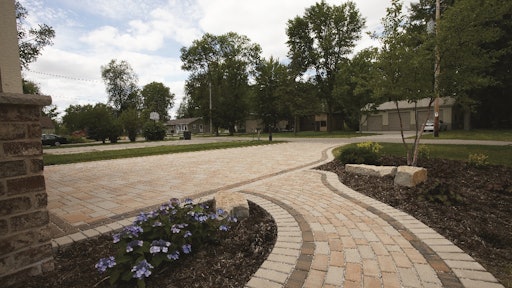 County Materials Corporation—a family-owned, Wisconsin-based manufacturing company and leading source for construction and landscape products—is pleased to congratulate Stumpf Creative Landscaping of Menasha, WI, for recognition at the 8th Annual Hardscape North America (HNA) Awards on October 23 in Louisville, KY. The HNA Awards recognize outstanding hardscape projects by contractors in commercial/industrial and residential applications using a variety of products including clay pavers, concrete pavers and segmental retaining walls with projects of different sizes.
Stumpf Creative Landscaping received top billing in the Concrete Paver–Permeable–Residential category for their design and installation of a driveway on Firelane Rd. near Menasha. The 1,150 sq. ft. project utilized H20 Pro Pavers supplied by County Materials. Set back only 90 feet from Lake Winnebago, the project complies with DNR regulations requiring permeable surfaces on paved areas of waterfront properties.
Competition for the HNA Awards is stiff, with winners representing some of the finest hardscape projects in North America. Judges evaluate each entry for design (including use of color, shape, texture and pattern), quality of construction and craftsmanship, compatibility with related construction materials and systems, construction innovation, and overall excellence. The HNA Awards are the only national awards program that recognize contractors for their efforts.
County Materials Corporation, headquartered in Marathon, WI, was founded in 1946. The company has grown into a diversified organization that supplies products for growing communities at more than 44 locations across the Midwest. Follow County Materials Corporation on LinkedIn for updates about the company's latest concrete innovations and charitable activities.