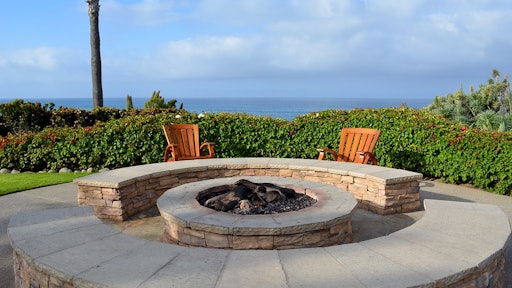 Looking for a way to spruce up your clients' exteriors this fall, so they can enjoy their outdoor space deeper into the season? Well, the National Association of Landscape Professionals released its top give landscaping trends for fall, including everything from practical outdoor heating and lighting to decorating.
"The outdoor entertaining trend has been gaining momentum over the past several years and this year has seen a further desire to bring the indoors out," said Missy Henriksen, vice president of public affairs for the trade association. Using member surveys, qualitative data analysis and customer opinions, the group pinpointed the following trends:
1. Technologically Advanced Fire Features
Remote-controlled, even smartphone-accessed setups that allow clients to enjoy bonfires or fire pits without gathering wood or tending the flame are popular. Nicholas DiBenedetto of ND Landscape in Georgetown found that these automated fire pits and fireplaces have "blown up" in popularity over the past five years, as people look to bring heat and warmth into their outdoor spaces in the cooler months.
2. Contemporary Versions of Classic Flowers
These plantings are grown to withstand the seasons and be disease-resistant, while also staying true to autumn's rich, warm palette.
To read the full original article, please click here.