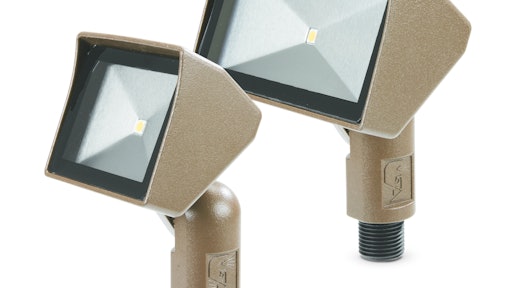 Vista Professional Outdoor Lighting has added two new models to its popular line of Up & Accent fixtures. The Mini Floodlight Series feature a slim, compact design that provides a higher output and more lumens per watt than standard LEDs. 
"While our Mini Floodlights are small in size, they provide a wide spread of light," said Cruz Perez, vice president of marketing for Vista Professional Outdoor Lighting. "They're unobtrusive to the eye during the day while providing superior lighting coverage at night."
The two dimmable Mini Floodlight models — the 5105 and 5106 — feature the latest Chip-On-Board (COB) LED technology. A single LED chip/emitter available in 2W, 3W or 4W offers exceptional beam spread and control. Light quality is further enhanced by a high-performance anodized aluminum reflector. Color temperatures range from 3000°K (W-Warm) 4000°K (N-Neutral) to 5000°K (C-Cool), and light output is up to 400 delivered lumens. A bordered, high-impact tempered lens offers both an attractive appearance and enhanced durability.
Both models feature the same compact design with various available mounting options, including an injection-molded, glass-reinforced Ryton R-4 composite adjustable knuckle with 1/2-inch NPT. The fixture can also be mounted into threaded hubs in junction boxes, on ground stakes, in tree-mount boxes or on mounting canopies. And with 16 standard polyester powder-coat finishes available, there's a color to blend with or enhance the appearance of any landscape. 
The 5105 Mini Floodlight model is the smaller of the two, with the fixture itself measuring 3-1/4" (82.55mm) wide, 1-7/8" (63.5mm) high and 2" (52.2mm) deep. The 5106 measures 5" (126.9mm) wide, 2-1/2" (63.5mm) high and 2" deep (52.2mm). When mounted using the Ryton adjustable knuckle, the fixture's height increases to 2-1/2" high for the 5105 and 3-7/8" high for the 5106.
"Every landscape has different lighting needs," Perez said. "At Vista, we want to offer outdoor lighting professionals the broadest range of quality options, allowing them to create the type of beautiful, customized look that their customers demand. Our new Mini Floodlights are just another example of our dedication to that goal."
Request More Information
Fill out the form below to request more information about
Mini Floodlight Series