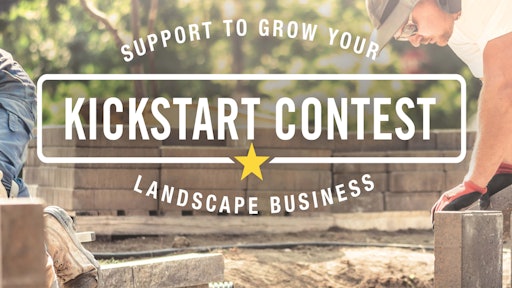 CASE Construction Equipment is now accepting entries for the CASE Kickstart Contest, a business development contest in which landscaping contractors can win a suite of prizes designed to take their company to the next level. Business owners are encouraged to enter the contest at www.casece.com/kickstart by answering basic questions about their operation and describing how they would evolve their services by winning the contest. The deadline for entry is March 30, 2018. 
One grand prize winner and one runner-up will be named, with the grand prize winner taking home the following package:
A six-month lease on any one piece of CASE Construction Equipment.
A yearlong consultation, which includes in-depth business analysis, personal coaching and consultation, follow-ups throughout the year, and a recap session to gauge results and set next steps, with landscape contracting industry expert Jeffrey Scott.
A $3,500 CASE Parts & Service Reward Card to go toward the purchase of attachments, fluids, etc.
Fleet management consultation and recommendations from CASE staff throughout 2018.
Brand-new, custom-branded CASE apparel/uniforms for staff.
Up to five passes to the Green Industry & Equipment Expo (GIE+EXPO) 2018 in Louisville, Kentucky.
CASE representatives, along with Jeffrey Scott, will select the winning entry. The runner-up will receive select consultative and apparel considerations from CASE. All entrants will receive a retail offer for $250 off the purchase of $3,500 or more in CASE original equipment manufacturer (OEM) attachments (valid April 1 through July 31, 2018).
"Many landscape contractors have the entrepreneurial spirit to grow their business, yet lack the assets to provide a catalyst for that growth," says Scott Harris, vice president, North America, CASE Construction Equipment. "Their work helps build and enhance our communities, which is a driving principle of our company. So we intend to reward that entrepreneurial spirit and desire to improve another community by boosting their business with efficient and powerful tools to help get them started."
"We'll be looking for a proven track record, but also a drive and dedication that makes it clear that this prize package will truly affect the winning company and each of its employees for the better," says Scott. "We're looking for entrepreneurs willing to do the work, look at their business from a different perspective and reap the rewards when each component of the prize package is engaged."
For more information on this contest, and the entire offering of CASE equipment and business intelligence for the landscaping industry, please visit www.casece.com/landscaping.