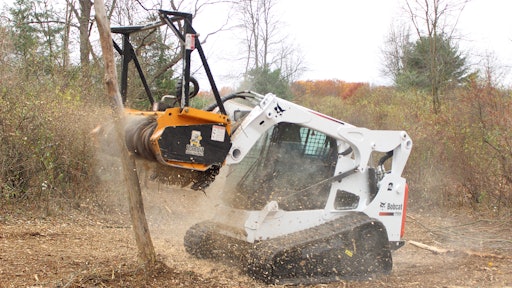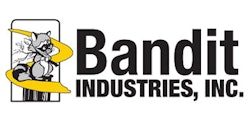 Featuring a 60-inch mulcher head powered by a single 110cc hydraulic motor, Bandit says its Model 60FM is a compact and capable attachment that turns any skid-steer loader into a Bandit forestry mulcher capable of dealing with brush and small trees.
The Model 60FM quickly attaches by using a quick-attach plate to the front of any skid-steer loader in just a few quick steps. And because it operates straight from the skid-steer's hydraulic systems, the Model 60FM requires very little maintenance to keep it in top form, Bandit assures.
Based on the tried-and-true design of Bandit's larger forestry mowers, the Model 60FM will aggressively process material into mulch that can be reintroduced directly into the soil. The mulching head is built using the highest-grade steel with considerable reinforcement to ensure it can withstand the daily rigors of mulching and land clearing. Special wear-resistant, high-yield material on the mower feet and the drum backer is designed to extend the life of the unit.
The Model 60FM features 36 teeth arranged in a spiral pattern along the full length of the mulcher head. Each 1-5/8 inch-wide tooth creates a more aggressive mulching action, limiting the size of the bite. A unique raker design forces material to the carbide tip of the tooth—improving tooth life and grinding performance, and preventing the forestry mulcher from stalling.
Request More Information
Fill out the form below to request more information about
Model 60FM Forestry Mulcher Attachment for Skid-Steer Loaders