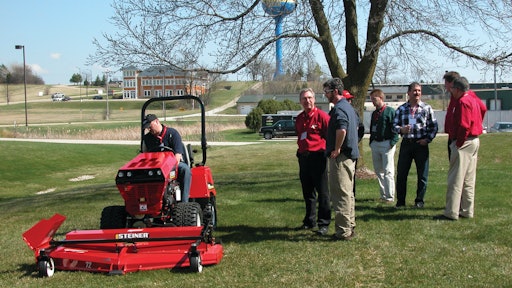 Schiller Grounds Care (SGC) hosted a Steiner Tractor dealer meeting at its manufacturing facility in Johnson Creek, WI, on March 20. The meeting revolved around SGC's unveiling of the new Steiner Model 440 four-wheel-drive tractor—a model with several innovative features that give Steiner dealers a host of competitive advantages, according to SGC executives.
Watch a video from the unveiling
Pat Cappucci, SGC president and chief operating officer, said the company is committed to investing in strong brands such as Steiner. The new Model 440 is proof of that, representing a badly needed and long-overdue upgrade to the brand's classic Model 430. "We wanted to maintain what was great and durable about the 430, but bring it into the 21st century," Cappucci said.
Making up for lost time. After years of neglect by previous company owners and management, the Steiner line was acquired by SGC in fall 2006. Just a few years later, SGC executives had actually discussed whether or not the line was worth investing in any longer. After assessing Steiner's brand equity, along with opportunities to reach new markets and grow unit sales, SGC quickly decided that it is.
The new Model 440 has been 18 months in the making. A 19-person team at SGC—from all areas of engineering, service and sales/marketing—tackled the project. The R&D phase included tight collaboration with key dealers and end-users. Six prototypes were developed, each incorporating design improvements as offered by those dealers and end-users. Extensive product testing of more than 1,200 hours has been completed.
Pilot production on the Model 440 began in March. Full production is expected by early April. Dealers should begin receiving units in early June.
Addressing customer concerns. At the onset of the Model 440 design phase, the 19-person design team began asking members of the Steiner Dealer Council what they would need in order to grow Steiner sales. Two main issues came to the forefront:
More horsepower, particularly in the diesel model
Operator controls that were easier to use than the existing handle control on the dash
As a result, the new Model 440 includes more power in the way of a 34- or 40-hp air-cooled Kohler, a 32-hp liquid-cooled Kubota, or a 25-hp Kubota diesel engine. The 440 also features more hydraulic power. Two pumps result in 60% more oil capacity, not to mention considerably cooler oil temperatures. Finally, the front and rear transaxles have been upgraded—resulting in double the strength of the previous model (430).
Other key features and specs of the Model 440 will be released in June when product first arrives in dealerships. All in all, SGC says there are roughly 20 unique features that give Steiner dealers a competitive advantage.
Dealer Dave Bohrer agrees, saying, "There are too many good improvements to say that one or the other will really put this product over the top. Certainly the hydraulic system and increased power are going to be really important to my customers." Bohrer is a lawn and garden sales manager for Mast-Lepley in Apple Creek, OH.
Eldor Schlumpberger of Riverside Steiner Turf Equipment in New Ulm, MN, is pleased with the new foot-operated forward/reverse control, which replaces the dash-mounted hand control. Schlumpberger says his many female customers in particular will appreciate this new feature.
Other dealers, however, are a bit more skeptical. Harold Veldboom of Waldo Implement in Waldo, WI, isn't certain that the market is big enough for this type of product. Furthermore, he wonders if compact utility tractors, which have gained in popularity in recent years, present too good of an alternative for the price.
Plenty of market opportunity. That remains to be seen. Nonetheless, there is undoubtedly a substantial opportunity for Steiner Tractor dealers to grow sales. In fact, there is opportunity for any dealer selling this type of product (articulating tractors).
Reason #1: Relatively wide-open market. Steiner views Ventrac as its only real competitor. Power Trac could also be considered a player in this market.
Reason #2: Versatility and crossover appeal. The articulating tractor is indeed a higher-end, niche product. However, Jeff Hallgren, Steiner's director of sales, says it can go head-to-head with a variety of equipment often utilized by contractors, municipalities and large-acreage property owners.
"Articulating tractors like the Steiner Model 440 can do the work of a zero-turn mower, garden tractor, compact utility tractor, smaller skid steer, and even a utility vehicle," Hallgren says. "We're talking about a huge market opportunity; hundreds of thousands of these pieces of equipment are sold each year. If we can capture just a small fraction of that, we can really grow."
Companies in this article