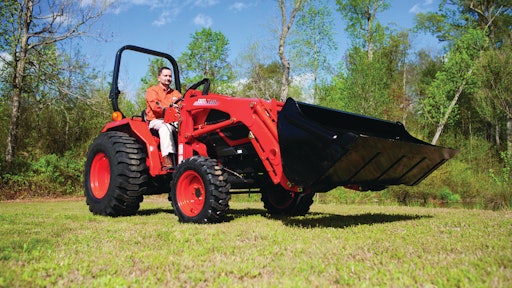 Dealers looking to diversify their product offering may want to consider taking on a compact tractor line. Compact tractors and their implements offer customers a tough product that can perform a multitude of tasks while also being able to fit into tighter areas. Some manufacturers suggest that sales of compact tractor products have continued to improve.
"(The tractor market) continues to climb out of the recession lows with solid single-digit growth for tractors and turf equipment, while construction equipment is recovering more quickly with industry growth above 30%," says Greg Embury, vice president of sales and marketing for Kubota Tractor Corporation.
Taking on compact tractors
Kubota has seen a consolidation among their dealers, but the number of locations offering the product has remained stable. "Kubota has the same number of dealer outlets as we did 20 years ago; however, as dealers retire, the number of owners has been reducing as dealerships are purchased by neighboring dealers," explains Embury. "A natural consolidation has been taking place for the last 20 years with our dealers."
Like with most outdoor power equipment, to capture compact tractor business you need to be knowledgeable about the products, stay well stocked, and maintain an inviting and professional dealership. Part of what attracts and keeps those tractor customers, is the equipment service you provide. A sizeable service area is required for the larger equipment.
"The dealer needs a complete set of specialized tools required for today's high-tech products, as well as shop and training facilities of good size to serve the needs of that community," says Embury. "He also needs trucks and servicing vehicles, service parts, and the right number of technicians that are professionally trained on the equipment."
Depending on the individual market, a dealer may want to consider offering mobile parts and service to their customers. "If he has a large number of customers that make a living with their equipment, up time is critical," explains Embury. "They have no time to be down, so they need a dealership that can come (and) service products or give loaners. They would be well served by going to the customer or offering pick-up and loaner services."
Dealers should also consider stocking some of the more popular attachments or implements that allow the customer to do more with their machine. You could also considering offering unit and attachment rentals to customers who will only need them for occasional use and can't justify a full-on purchase of the high-ticket item.
"A majority of our tractors are sold with a loader," says Embury. "We also offer a full line of performance-matched implements from box scrapers to augers to snow blowers, to name a few."
The Customer
The customer who is buying a compact tractor can use it for agriculture use, turf maintenance, recreation and hunting, as well as industrial and construction applications. When selling the new product, it is important that dealers share their knowledge of safe and effective operation with the customer to ensure they have a satisfactory experience when using it.
"Kubota dealers take all new customers through operation, maintenance and safety instructions on the equipment." says Embury. "They show them how to run it, how to be safe with it, and how to maintain it—all at the time of delivery."
Taking care of the customer who comes in to purchase a tractor is just the same as your other outdoor power equipment customers. By applying what you know about sales and service when entering the compact tractor market, you should succeed in offering a new product to both new and existing customers.
Companies in this article