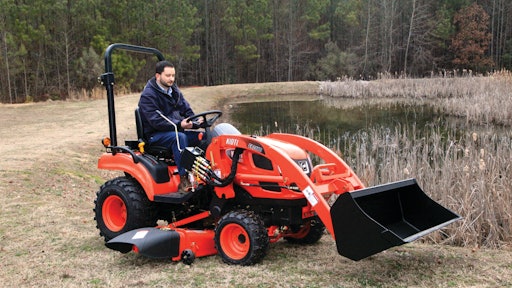 Kioti Tractor, a division of Daedong Industrial Company, Ltd., has entered the subcompact tractor market with the launch of the CS2410 model tractor. This new tractor model exponentially increases sales opportunities for Kioti Tractor dealers throughout North America.
Prior to the launch of the Kioti CS2410, Kioti primarily targeted homeowners with 5-plus acres of land. The CS2410 subcompact tractor is appropriate for those homeowners with property sizes ranging from just under an acre up to 5 acres, possibly more.
While subcompact tractors are a relatively new tractor category, they are designed for and perfect for residential use. "Subdivision lots have grown in popularity over the past 10 years. The Kioti subcompact will target homeowners who do their own yard work, anything from mowing or snowplowing to mulching or digging with its optional backhoe. This product opens so many doors for our dealers and provides our brand with a significant opportunity for growth," states Peter Dong Kyun Kim, chief executive officer of Daedong-USA Inc. Kioti Tractor Division.