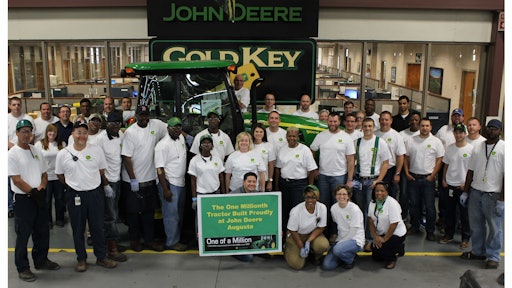 John Deere has marked a manufacturing milestone with the completion of its one millionth tractor built at the John Deere - Augusta factory in Grovetown, GA. The millionth unit, a 5100M model, was recently on display at a commemorative ceremony at the local fairgrounds.
In 1990, the factory produced its first unit, a 55 Series Compact Utility Tractor. Today, John Deere - Augusta produces 27 models of compact utility tractors and utility tractors that are distributed throughout North America, and exported to more than 40 other countries.
The facility occupies more than 400,000 square feet, spans more than 175 acres, and employs approximately 470 employees to support the design, production and distribution of John Deere compact utility and utility tractors.
John Deere - Augusta builds the 1 Family, 2 Family, 3 Family and 4 Family Compact Utility Tractors that are popular with homeowners, small farmers, landscape contractors and commercial users. The 5 Family Utility Tractors are also built at John Deere - Augusta and are frequently used by farmers, vineyards, construction companies, commercial mowers and golf courses.
All John Deere compact and utility tractors pair with attachments like loaders, tillers, mowers, backhoes and post-hole diggers to make customers more productive in a variety of applications.