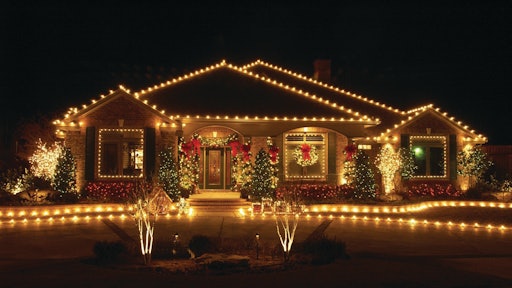 Two things likely come to mind when thinking about how to show your employees some appreciation this Christmas: have a party and/or give them a gift. There are many different ways you can go about that, though, in addition to other team-building exercises and non-conventional displays of gratitude.
Dozens of "working smarter" contractors were asked how they plan on saying thank you to their employees this holiday season. Read on to hear what they have to say—and maybe steal an idea or two.
Traditional party ideas
Most contractors like to stick with the traditional Christmas party—either at their facility or at some public venue. "A holiday party is a good way to get everyone together, invite their partners, and say thank you to employees," says Daniel Sadler of Michael Bellantoni & Sons in White Plains, NY. "Another great way to say thank you is to surprise them with a small gift. It doesn't have to be big or expensive, just something to say that we recognize their hard work and appreciate them."
Here's a look at some of the more interesting ways "working smarter" contractors are putting traditional Christmas parties together this year.
Christmas breakfast is held at a local resort hotel. We offer gifts for all employees, such as a pre-paid American Express card or a gas card. We also hire entertainment such as a magician or comedian.
We're having a family potluck Christmas party with all employees and their spouses and children. Everyone can share their favorite holiday dish, which makes for a great way to enjoy each others' company.
Each employee is encouraged to bring a guest to the party, and we vary the location year to year. This year we're looking at local wineries.
We like to encourage employees to bring a guest to our party at a restaurant/pool table place. I think they appreciate the meal as many of them don't get to go to restaurants too often. We also hand out a Christmas gift/check.  
We have a party with a big thank-you theme right at our garage. I also get a small gift for my men as a token of gratitude, although I'm not a big fan of a monetary bonus as it just seems like the easy way out, although I'd be interested to hear what others think.  
A unique spin
We're having a potluck and management roast, which is a synopsis of the year in pictures, funny bits, etc. It lasts the morning and is truly a great, humorous event.
We will celebrate in typical southern fashion: a catfish fry with all the trimmings, coupled with gifts and giveaways that are drawn from ticket stubs in random fashion. Last year we rented a "cash cube" and filled it with 500 $1 bills and five $100 bills. It created lots of laughs and excitement.
We host a holiday party with hors devours and beverages at a local, festive Italian restaurant. We run a slideshow with pictures of our crews and staff at our annual summer picnic, at training events, working in the field and at our facilities, in addition to some photos of our clients' properties so the employees can show their families where they work.  
Usually on December 23, production employees work a half day, and all branches come into our headquarters facility. We decorate the warehouse and have a catered lunch of Mexican food. We solicit our vendors to provide gifts for a raffle. Usually we have enough gifts so that everyone wins something. The Christmas tree in the warehouse is also raffled off, lights and all. Finally, we recognize an employee of the year and manager of the year with an award. The past few years we have given an additional gift to each employee, last year was a nice "hoody" company sweatshirt. I personally shake everyone's hand and thank them for their service to the company. 
We usually take our employees and spouse/significant other to a local Yacht club for dinner, fillet Mignon, cigars and scotch. We hand out the bonus checks to the spouses and significant others and give the staff at the yacht club some cool landscape flair from our uniform stash.  
Other fun events
We are paying for 30 employees to attend a Columbus Blue Jackets hockey game and enjoy some time together as a whole unit and not divisional.  
This year I am renting an indoor volleyball court for the afternoon to be followed by a nice dinner. I try to look for something that is team building with a nice treat.  
We usually have a company party where we rent out a room at a restaurant and have dinner and drinks for all of our employees and their families. We also have a paintball trip every November (before it gets too cold) that the guys really enjoy—probably because they get to shoot the bosses!  
Bonuses, prizes and other gifts
Cash is king, and all of our project managers will receive cash bonuses. Additionally, our most productive project manager will receive a 42-inch plasma TV. The others will receive smaller versions.  
We've always distributed 25% of our cash profits to our employees the week before Christmas.
We plan on giving everyone a mini gift catalog from which they can choose from a dozen or so items within a certain price range.   
Year-end bonuses and unpaid "paid time off" checks are distributed at our annual Christmas party, which often includes funny presentations of special gifts, a gift raffle, a video program and the presentation of company awards.  
Our annual Christmas dinner party includes the presentation of our Craftsmanship and Master Craftsman Awards. We also present fleece and leather jackets for those who have been with the company for three and five years.   
We always try to have some kind of holiday party, whether formal or just an afternoon at the shop with food and drinks. We give all of our "key" people holiday bonus dollars. Most of our crew members also get a holiday bonus, along with company-branded winter clothing, jackets and sweatshirts.  
Gifts that keep on giving
We have a live tree in my office which we make the family tree. The employees bring in different things to hang on it, and I try to find ornaments that represent something that has happened in their lives over the last year.  
Our company has been supporting World Vision, a Christian humanitarian organization aimed at tackling the causes of poverty and injustice, in lieu of holiday cards. We also have a "community board" in our office that reflects on clients who have passed away. The board also shows ways in which we are helping our local community. For instance, each year we donate to a local Christmas dinner for people who are less fortunate.  
We have done a variety of things, from bonuses and parties to gifts for their children. We've also talked to our employees' spouses and friends to find out something special they need or want to do, but maybe are too humble to ask for help with, so we can surprise them. This has had a major impact where tears have been shed.  
This year we are thanking employees by gifting them with Kwik Trip Gift Cards. Then, 10% of every card we buy goes to The Hugo Good Neighbors Food Shelf. So in this case everyone wins. We can give an affordable gift that gets used, the employees feel appreciated, and our neighbors in need get a boost as well.  
This article was originally published in November 2011.