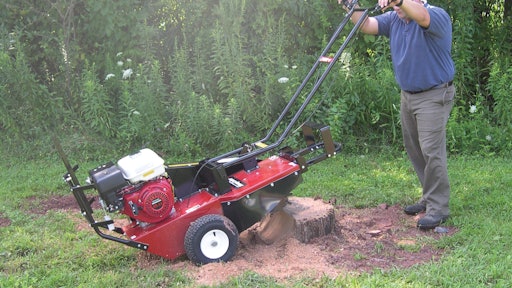 A stump cutter is an essential element of any serious tree care professional's equipment lineup. Stump cutters can also come in very handy for lawn maintenance contractors who have customers asking for dying or storm-damaged trees to be removed from their yards. For occasional uses like this, renting a stump cutter is a sensible option.
Also known as stump grinders, stump cutters are offered by a variety of manufacturers in a variety of sizes and configurations, including as attachments for tractors or skid steers, such as the KC180 Stump Grinder from Ventrac.
MacKissic is one such manufacturer of walk-behind stump cutting equipment. MacKissic product experts help with some tips on what to look for when selecting a walk-behind stump cutter for your operation.
Getting to the stump. If your primary need is to take out stumps not only in easily accessible areas but also in hard-to-reach spots, a compact unit will be the most practical. For instance, MacKissic's Merry Commercial CPSC stump grinders are designed for tight areas. They are relatively lightweight at 225 pounds, so they shouldn't damage turf. Plus, they are just 25 inches wide for easier maneuverability and the ability to fit through gates.
Other stump cutters can be a bit bigger—sometimes much bigger. MacKissic's Mighty Mac Stump Cutter, for instance, weighs around 305 pounds but is still just 25 inches wide. On the other hand, something like the Morbark G 42 SP Stump Grinder weighs over 1,600 pounds and is around 35 inches wide. So really think about the type of work you'll be doing, how often and where.
Operation. Think about how easy and comfortable a machine is going to be to operate. For instance, an adjustable handlebar to match the height of the stump and the operator, as found on MacKissic's cutter, can greatly reduce operator fatigue. Or, as with Vermeer's SC372, a simple flip of a switch engages the clutch, eliminating a need for manual manipulation of a belt tensioner or engine slide adjustment.
Also look at how smoothly and durably the cutterhead will perform. For instance, MacKissic's patented cutter head on the Merry Commercial stump cutter, set 30° off vertical, works much like a router, discharging the chips efficiently and quickly. Also, the configuration of the teeth provides for smoother cutting.
Visibility. MacKissic's reversible handlebar provides the operator with visibility to see the cutter head at work, and avoid hitting rocks and other foreign debris. Another example is Rayco's RG1645S Stump Cutter. It features a swing-out operator control station, allowing for maximum visibility of the cutting action while keeping the operator shielded from chips and debris
Safety. Visibility and safety really go hand in hand. On the topic of safety, operator presence systems are a great feature to look for. On MacKissic's machines, for instance, the clutch brake controlled by the operator presence handle stops the cutter head in two seconds when released.
As another example of operator presence systems, Vermeer's SC372 is equipped with three operator-sensing control levers that monitor the operator's touch and maintain cutter wheel engagement. When the operator's hands leave the control levers, an automatic disengage and braking sequence will stop the cutter wheel in less than nine seconds. Also, the cutter wheel will automatically stop when the operator releases the hydraulic cutter wheel controls.
Transporting the machine. Keeping the unit's working components from damage during transit needs is key. For instance, MacKissic's Merry Commercial stump grinder's front bumper protects the engine while providing a strong handle for lifting and transportation tie-down. The rear kickstand keeps the cutter head elevated during storage and transportation and doubles as a cutter head guard. 
Easy maintenance. Equipment that is durable and also easy to maintain is always very important to professional contractors. The cutter head should be easy to remove or install to allow changing of teeth with little downtime, MacKissic product experts say. Plus, easy access to the cutter head permits quick cleaning and sharpening of the teeth without removal of the cutter head.