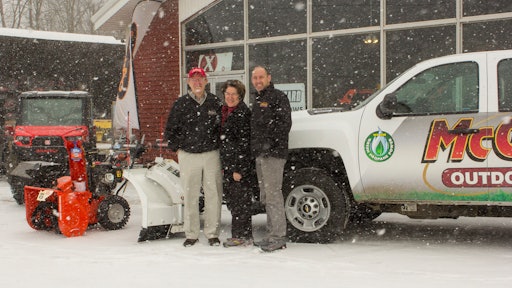 For Brian McGavic, the saying "like father, like son" runs deeper than just genetic characteristics. His education and career path are mirror images of his father's, and both men are now focused on the success of the family business—McGavic Outdoor Power.
"My father, Pat McGavic, came to Kokomo, Indiana, to work for General Motors (GM) as an electrical engineer designing integrated circuits," McGavic says. "In 1978, he left corporate GM and started the outdoor power equipment business. After 40 years, both my mother and father are still working in the business today."
Similarly, McGavic earned his degree in engineering from Purdue University and, after a stint in the corporate world, returned to the family business. In fact, McGavic's corporate background with a company called EnerDel Inc. steered him back toward his landscape beginnings. According to an article in Morse Lake Living, "[He] was asked to lead a team of engineers to design and develop a lithium-ion battery system to be used in an electric green mower application for the Toro golf and turf division."
From there, he decided to take on the challenge of opening a McGavic Outdoor Power at a new location in Noblesville, Indiana. The dealership now boasts three locations in central Indiana: Kokomo, Marion and Noblesville.
At each of the three locations, the McGavic family prides itself on its commitment to its customers and community. "We're a family-owned and -operated business that provides equipment sales, parts, and service for both residential and commercial customers. We represent premium equipment manufacturers for all seasons. Our mission is to serve those who work and shape the land," McGavic says.
With that mission in mind, he keeps the focus on parts and service, while crediting service and support for creating and keeping good relationships with his customers. According to him, "There is a lot of competition in the commercial market space around Indianapolis. I found that customers are hungry for good service and parts, and they appreciate it when the work is done correctly and in a timely manner."
Third Location's a Challenge and a Charm
Expanding the family-owned business to a third location didn't come without challenges, nor did it come without success. "The opportunity to grow came from our suppliers looking for stronger market share in certain areas," McGavic says. After being encouraged by Exmark to expand into Noblesville, the business saw tremendous growth and the sales in Noblesville shot quickly past the original Kokomo location within five years.
McGavic also notes the benefits of having three locations: "One benefit is certainly the three different economies and three different weather patterns. We have seen dry conditions at one location and not at the other. We have seen a boost in the economy in one location that is different from the others. The diversity is certainly a benefit in some cases."
Moreover, through the obstacles that arose from the quick success of the Noblesville location, McGavic took the opportunity to review and improve some internal aspects of the business, which allowed him to stay focused on his mission of providing the best service. For him, computer software to track inventory between the three locations was key. Considering another sales avenue for inventory, an Ebay store, also proved successful.
In the winter months, the dealership additionally begins to switch gears to focus on its annual service sale to stay productive. "We always get a good response for this event. Most of our customers plan for this mower and landscape equipment service every winter," McGavic says. "We offer service plans with free pickup and delivery annually. This helps keeps our technicians busy all year round."
Quality Equipment, Parts and Service
Because McGavic Outdoor Power is committed to quality parts and service for its customers, it carries quality equipment from suppliers such as Exmark, Gravely, John Deere, Wright Manufacturing, Avant Tecno, Polaris, Honda, Toro, STIHL, RedMax, Billy Goat, Ryan, E-Z Trench, Enduraplas and more. These suppliers help McGavic maintain his commitment of service to his customers. "Our suppliers help us in many ways through product support and creative finance. We leverage these relationships to help grow the business and solve problems," he says.
In particular, McGavic Outdoor Power is one of the largest Exmark propane dealers in Indiana. "This is a great alternative fuel source and fits the landscaper market very well," McGavic asserts. "We converted our trucks in Noblesville and promote the technology."
Another product line that McGavic carries is Avant Tecno articulated loaders. He says the machines are not only attractive to landscape contractors as a result of their versatility, but also because they are "changing the U.S. mindset to alternatives to the traditional skid loader."
McGavic wrote an article, entitled "A Shift in the U.S. Mindset Considering Articulating Machines," detailing the benefits of bringing this equipment to the forefront of American landscaping businesses. According to the article, McGavic feels a departure from the traditional skid-steer model can provide numerous benefits for landscape contractors. "We have seen a recent trend with European equipment technology starting to take off in the U.S. commercial market. A shift in the U.S. mindset from typical skid-steer loaders is giving landscapers a nice competitive edge economically and a better end product," he explains.
McGavic's article notes some of the advantages of articulated machines include: the flexibility to use more than 200 attachments, less turf damage, extendable booms, improved operator efficiency, faster transport speeds, safer operation, better fuel economy and lower emissions, just to name a few.
McGavic Outdoor Power prides itself on being a family-run business and its dedication to service. This service comes mostly in the form of parts and equipment, but more importantly, to its devotion to its customers who "work and shape the land." From providing three locations to improving business practices and presenting customers with the latest information on landscaping equipment trends, McGavic Outdoor Power does just that.
"I am extremely proud of the relationships that we have with our family, employees, suppliers and customers," McGavic affirms. "We serve a lot of wonderful people."
Angie Mellor teaches communications and writing classes at Western Technical College in La Crosse, Wisconsin, while freelance writing and editing.