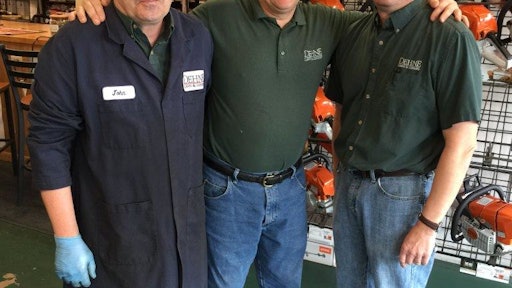 On his 26th birthday, Michael Keblusek and his brothers, Tom and John, buried their father who passed away in his sleep only six weeks after buying a new business. Their father, John Sr., purchased Dehne Lawn & Leisure after spending 25 years operating an Ace Hardware franchise in the south Chicago suburbs with his parents and brother. John Keblusek Sr. took over operations at the established equipment dealership in Northbrook, Illinois, in the middle of a drought on a Friday the 13th in 1988.
The Keblusek brothers didn't anticipate following in their father's footsteps, but fate had other plans. At the time, Michael was working as a credit manager, John a department manager and Tom a graphic artist. But when their father passed away unexpectedly, they assumed ownership of Dehne Lawn & Leisure. "Our father always lectured that family will always be family, no matter what happens, and we should make every effort to be congenial. After sharing a bedroom for 21 years and working in the family hardware store, the transition seemed natural, almost pre-destined," recalls Michael.
Quality Service by Committed Employees
"We operate a throwback mercantile establishment that still phones our customers to remind them to service their equipment. We still do not have air conditioning. And we still make candid recommendations with honest rebuttal," Michael says.
The Keblusek brothers are committed not only to their customers, but also to their employees. One employee, Jim Pantle, worked with Dehne Lawn & Leisure for over 50 years, including when the business was still owned by the Dehne family. According to an article in the Northbrook Star, "Pantle has worked at Dehne Lawn & Leisure since 1967, repairing countless lawn mowers and snow blowers and string trimmers."
In the article, Michael notes how Pantle's work ethic mirrored the brothers' values of quality and commitment: "It's not a glamorous job, but I think there's something honorable about somebody that can be a hard worker, and be reliable and dependable and selfless."
Securing and retaining employees like Pantle can make or break a business, and the Keblusek brothers understand that happy and well-treated employees make for quality customer experiences and a higher rate of customer satisfaction in return. The Kebluseks' commitment to valuing their employees includes above-average compensation, fully funded healthcare, holiday pay, and vacation for both full- and part-time employees.
The Brothers Keblusek
Furthermore, the Keblusek brothers each bring their own personality to the table as part of their commitment to quality customer service.
"John, known to his fans as dude, is a brutally candid and thoughtful technician who instructs and advises customers with a passion not often seen in a retail environment. Tom, who knows most customers by name, does not hesitate to spend as much time as needed to address all customer issues, whether or not they are relevant to our business. I am the analytical brother commissioned to keep the boat afloat or at least make sure there's space on the lifeboat when the time comes," Michael says.
From their father's reminder of "family will always be family, no matter what," the Keblusek brothers are able work as a team. "One cannot manage siblings, particularly older siblings," Michael admits. "I can only attempt to influence them and persuade desired outcomes. We are more cohesive when things are challenging than in times of prosperity."
The Need for Industry Transformation
In Michael's opinion, there have been a lot of industry changes and challenges in the last 15 years. Despite the trend of increasing online sales, and equipment built to be cheaply and easily replaced instead of serviced or fixed, the Kebluseks work hard to maintain a business that prioritizes a personal relationship with its customers.
"We are in need of an industry transformation," urges Michael. "We need to promote a symbiotic relationship between manufacturers and dealers. We need products that are pre-emptive, not reactive. We need sustainable quality, not disposable disappointment. The constant drive for lower price points encourages replacement, and suppresses parts and service sales."
Michael also notes that generational differences in customers' priorities should be considered in future outdoor power equipment design and development. "Millennials are more socially responsible consumers. They do not want to deplete natural resources and fill up landfills. They want environmentally friendly products that provide long-term value," he says.
Baby boomers are also concerned with the value and quality of equipment. "Consumers want products that last and function as promised," he adds.
Michael feels that prioritizing product quality and innovation can garner a better profit and sustainability for businesses that focus on parts and repairs. Not only can such changes be lucrative, but they can also promote customer loyalty. "People pay for quality. Dealers should focus on brands that are dedicated to independent retailers and promote complementary products rather than foster transient brand loyalty," Michael declares.
Satisfying Customers and Upholding Family Values
Dehne Lawn & Leisure makes its own adjustments and creates its own innovations to adapt to changes in customer needs. According to Michael, "Like other dealers, we diversified our brands and product lines to broaden our customer base. We do well retaining and cross-selling our customers. And we adjusted our business hours in response to changing shopping patterns."
The Kebluseks also reward customers for keeping their equipment well-maintained. "We offer pre-season discounts for equipment servicing and make appointments for service in season. We try very hard to always have service work in the pipeline. We do not promise immediate turnaround, but instead, encourage our customers to be proactive about servicing their equipment," explains Michael.
While the industry has changed significantly since John Keblusek Sr. bought Dehne Lawn & Leisure, the Keblusek brothers are working diligently to ensure that their business values and store experience remain the same. Whether it's the 40-year-old Marantz receiver playing music in the showroom, or the authentic throwback experience that cannot be reproduced by the Internet or a big-box store, the Keblusek brothers continue to do it their way.
"Almost 30 years later, we are still here," Michael says. He appreciates the fulfillment working with his family gives him. "I am grateful to be able to work with my wife and brothers. I am grateful for talented and loyal employees who have become my friends. And I am grateful to my benevolent customers who go out of their way to patronize our family business. But sometimes I still miss my dad."
Angie Mellor teaches communications and writing classes at Western Technical College in La Crosse, Wisconsin, while freelance writing and editing.