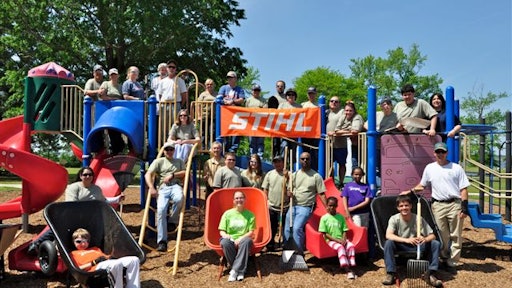 Stihl Inc. partnered with the city of Virginia Beach Parks and Recreation and local lawn care company, K&D Round's Landscape Services, to give back to the community as part of the third annual Professional Landcare Network (PLANET) Day of Service, a nationwide event that encourages Green Industry companies to give back to their communities. The Stihl event took place Saturday, May 7 at Munden Point Park.
"At Stihl Inc., we believe it is our responsibility as citizens of Virginia Beach to give back to our community in every way possible," said Roger Phelps, promotional communications manager for Stihl Inc. and PLANET board member, "We are proud to be a part of PLANET Day of Service and partner with the Parks and Recreation department to improve one of our city's great parks."
Volunteers from Stihl Inc. and their families, K&D Round's Landscape Services, and city-trained personnel all participated in Saturday's event at Munden Point Park. Some of the improvements included tree pruning, shrub trimming, spreading mulch and pine straw, cleaning flower beds, sand volleyball court replenishment, and playground mulch replenishment.