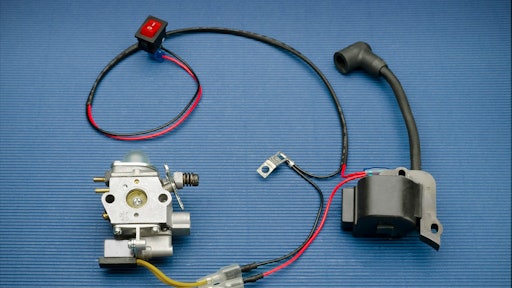 Walbro Engine Management has introduced a simple, bolt-on system that ensures easy starting for a wide range of handheld consumer products including trimmers, blowers and chainsaws.
"Starting problems can be a leading customer complaint," says Dale Kus, principal engineer, Walbro Engine Management. "The new Walbro starting system provides simple, consistent starting to increase customer satisfaction and reduce a common reason for product returns."
With this new Walbro system, the operator starts the engine by simply pushing the primer and pulling the starting cord as directed by the manufacturer and the digital electronic system does the rest. Test results show the new Walbro system delivers quick and consistent starts on hot or cold engines, with any throttle position, in ambient air temperatures from 15°F to 105°F (-10°C to 40°C).
A key design feature of the Walbro system is that it eliminates the traditional choke, a component that can be a challenge to operate effectively. In its place, a sensor monitors engine temperature and a microchip on the digital ignition adjusts fuel flow as needed, ensuring that the engine starts and continues to run without flooding, regardless of engine temperature. In addition to the digital ignition unit, the system includes a Walbro cubic carburetor with an integrated solenoid.
Installing the Walbro system on most engines is very simple. No battery is required. The flywheel does not need to be changed and the need for special wiring is avoided as the system utilizes the existing stop switch wiring. The result is a cost-effective "bolt on and go" system that requires no retooling.
"Achieving simple, consumer-friendly starting performance was our primary engineering goal," concludes Kus. "But the technology must also be easy to install onto our customers' current engine designs to minimize cost. We feel that by meeting both requirements, our new Walbro starting system delivers exceptional value."
Additional information regarding Walbro Engine Management is available at www.walbro.com