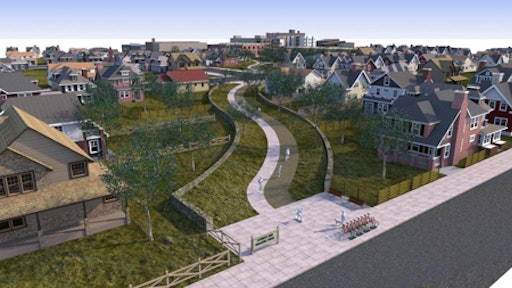 In honor of National Landscape Architecture Month in April, landscape architects across the country are hosting a variety of activities to celebrate the profession and explain how their work contributes to the public's well-being. In keeping with this year's theme, many events will demonstrate how green design can encourage healthy living.
"Since its founding in 1899, public health has always been an integral concern of the landscape architecture profession," said Nancy Somerville, executive vice president and CEO of the American Society of Landscape Architects (ASLA). "Landscape architects create spaces that promote physical activity, including parks, recreational facilities, bicycle paths, walking trails, and complete streets that offer alternatives to a reliance on cars."
A new ASLA brochure, "Designing for Your Health and Well-Being," describes how to promote healthy living through landscape architecture. Also, to mark the month, the entire April issue of Landscape Architecture Magazine is available online for free.
National Landscape Architecture Month also encompasses Earth Day on April 22 along with the April 26 birthday of Frederick Law Olmsted (1822-1903), the father of landscape architecture, designer of New York City's Central Park and other iconic landscapes, and founder of the American Society of Landscape Architects in 1899.
Since Olmsted's time, the field of landscape architecture has taken a lead in solving environmental problems and promoting civic planning for healthy living. Recent innovations include green roofs, sustainability certification, green infrastructure, and active transportation measures including safe streets.
Noteworthy Events. Some of the events throughout National Landscape Architecture Month include:
Building a series of rain gardens for Joplin, MO, which is still recovering from a devastating tornado, by the Prairie Gateway chapter
Garden design workshops in three Alaskan cities
Three walking tours in San Diego County
A "sketch walk" at Columbus Circle and Lincoln Center in New York City
A program in the schools and a wetlands walk in Southern California
A self-guided walking tour of downtown Indianapolis' significant landscapes, public parks and urban design scheme
A program in Idaho working with students and the local high school environmental education program
Showing a documentary film, "Biophilic Design: The Architecture of Life," in Boston that explores the need and importance of reconnecting people with nature
Community-based garden design In Utah, carried out by the Wasatch Community Gardens and the Utah Chapter of ASLA.
See full activity list on the National Landscape Architecture Month website.