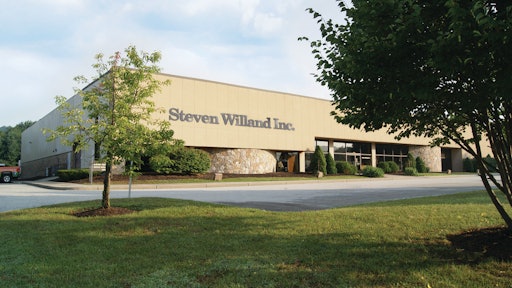 Steven Willand Inc., a wholesale commercial power equipment distributor based in Augusta, NJ, has recently been awarded the New York and New England territories for Husqvarna's  RedMax, Dixon and Bluebird brands of power equipment. In all, Steven Willand Inc. distributes over 20 brands of power equipment to dealerships from DC to Maine.
"Husqvarna is thrilled to bring the Steven Willand Advantage to our RedMax, Dixon and BlueBird dealers in the New York and New England territories," states Denis Bedard, managing director of key accounts at Husqvarna. "The level of service and professionalism they provide to the RedMax, Dixon and BlueBird dealer network in the New Jersey, Pennsylvania, Maryland and Delaware region, has been exceptional. The Steven Willand organization is considered a premier distributor-ship within the OPE industry and we're excited for the growth potential in the new territory."  
The Steven Willand Inc. Advantage is an assortment of business services provided by Steven Willand Inc. to dealers that includes full service sales and marketing support that assists dealers in establishing, maintaining and growing territory presence. Dealers gain access to a suite of Steven Willand and manufacturer supported programs that provide dealers with a personalized business module supported on every level by longstanding, knowledgeable Steven Willand employees.
Advantage services include sales and technical service training (in-store and online), an assortment of sales programs that dealers can choose from to find the programs that work best for their customer base, event support for open house and customer appreciation events, and a new online "Toolbox" where dealers can access the latest company and manufacturer news, marketing materials, new sales program offerings, service bulletins and other timely information that dealers rely upon daily.
"We're as committed to our dealers as we are with the brands we carry," states Scott Willand, president of Steven Willand, Inc. "We work closely with equipment manufacturers to create unique opportunities for our dealers that allow them to stand out in the marketplace. We're dedicated to the long term success of our dealers. Our commitment is not just when the relationship is new or business is booming, but through the tough times when the economy is poor. It is in those times that we double our efforts with the manufacturer to provide dealers with competitive programs that enable them to maintain their presence in the marketplace and weather the economic storm."
To learn more about Steven Willand Inc. and the brands of quality turf equipment they represent, visit their website at http://www.stevenwillandinc.com.