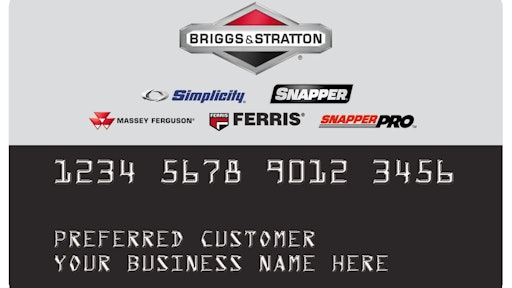 GE Capital Retail Bank and Briggs & Stratton Corporation announced a multi-year agreement to provide a private-label retail credit card program for power equipment and standby generators. GE Capital Retail Bank provides financial solutions for manufacturers and dealers to help grow their customer sales.
The private-label retail financing program is accepted at more than 6,000 Briggs & Stratton dealers nationwide. It offers a fast application process and special financing promotions (subject to credit approval and availability) on a complete line of lawn and garden and turf care products through the Simplicity, Snapper, Snapper Pro, Ferris and Massey Ferguson lawn and garden brands, as well as GE Generator Systems and Briggs & Stratton Standby Generators. The Briggs & Stratton Retail Credit Card can also be used toward parts, service and accessories.
"GE Capital's tenure and expertise in the outdoor power equipment industry provides significant benefit to our dealers and their customers," says Harold Redman, senior vice president of Briggs & Stratton and president of Briggs & Stratton Products Group. "We look forward to providing our dealers and customers with excellent financing options."
"We are pleased to work with Briggs & Stratton to provide consumer financing solutions to their customers," said Gary Slagle, vice president and general manager, Outdoor Power Equipment industry, for GE Capital's Retail Finance business.