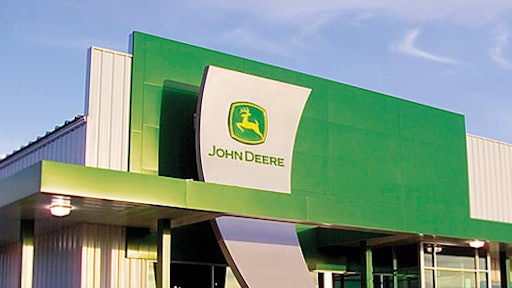 Deere & Company's second-quarter net sales (ending April 30, 2013) increased 9% to $10.914 billion, matching its first-quarter performance. Net sales for Deere's equipment operations specifically were up 9% in Q2 and 9.8% for the first six month of its fiscal year.
"After a record-setting second quarter, John Deere is well on its way to another year of strong performance," said Samuel R. Allen, chairman and chief executive officer. Second-quarter sales and income were the highest for any quarterly period in company history, he pointed out. "Deere's results are a reflection of positive conditions in the global farm economy, which continues to show impressive strength. The company's performance also offers further proof of the adept execution of our operating and marketing plans, which are aimed at expanding our global market presence."
Performance Highlights
Equipment net sales in the United States and Canada increased 9% for the quarter and 13% year to date.
Company equipment sales are projected to increase by about 5% for fiscal 2013 and by about 3% for the third quarter compared with the same periods a year ago. Included is an unfavorable currency-translation impact of about 1 percent for the year.
Although Deere expects to deliver record earnings for the year, global financial pressures as well as adverse weather patterns have added a note of caution to the outlook. "Deere's near-term forecast is being tempered by lingering economic concerns in many parts of the world, which are restraining business confidence and growth," Allen stated. "In addition, cool, wet weather in North America has delayed crop planting, slowed construction activity and hurt sales of turf-care equipment." 

Agriculture & Turf. Sales increased 12% for the quarter and 14% for six months largely due to higher shipment volumes and price realization, partially offset by the unfavorable effects of currency translation.
Deere's worldwide sales of agriculture and turf equipment are forecast to increase by about 7 percent for full-year 2013, including a negative currency-translation impact of about 1 percent. Relatively high commodity prices and strong farm incomes are continuing to support a favorable level of demand for farm machinery in much of the world. Deere's sales are further benefiting from global expansion and a number of advanced new products. 
Industry sales for agricultural machinery in the U.S. and Canada are forecast to be up about 5 percent in relation to last year's healthy levels. The increase reflects continued strength in demand for large equipment such as high-horsepower tractors and combines. 
In the U.S. and Canada, industry sales of turf and utility equipment are expected to be flat to down slightly for 2013, reflecting a cool, wet spring in North America and a continuation of cautious consumer sentiment.
Construction & Forestry. Sales decreased 6% for the quarter and six months mainly due to lower shipment volumes. Deere's worldwide sales of construction and forestry equipment are forecast to decrease by about 5 percent for 2013. The decline reflects a cautious outlook for U.S. economic growth, cool, wet weather conditions in North America, and flat sales in world forestry markets. In forestry, further weakness in European markets is expected to offset higher U.S. demand.