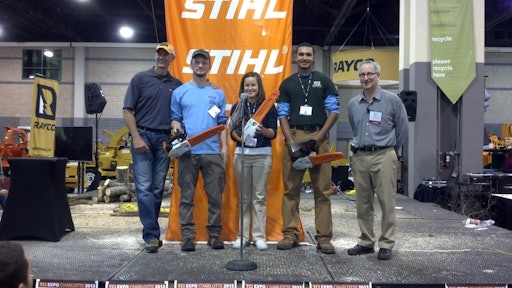 Approximately 150 college and vocational students from 18 schools across the country convened in Charlotte, NC, November 14-16, to expand their knowledge and test their job skills at the Stihl-sponsored Tree Care Industry Association Foundation (TCIAF) Student Career Days and Student Skills Competition. Held in conjunction with the TCI EXPO, TCIAF Student Career Days is a career development event for arboriculture, urban forestry and horticulture students.
"It is essential to invest in the next generation of tree care experts," said Mark Chisholm, certified arborist, three-time international tree climbing champion and Stihl Inc. spokesperson. "It's an honor to use my passion for climbing and competing to help students sharpen their skills and encourage them to learn through their personal experiences."
Student Career Days offered training from industry leaders to get young professionals ready for the workforce. Chisholm was onsite for the event to share and demonstrate climbing tips. Students also had the opportunity to meet tree care industry employers at the job and internship fair.
Skills competition
A Student Skills Competition featured the work climb, belayed scramble, and throwline competition events, as well as academic events, including a safety gear check, and a knowledge exam. Volunteers from sponsor companies served as judges for the competition, and also provided instruction.
Students competed in climbing events for the chance to win a Stihl model MS 201 T C-E chainsaw, a tool commonly used to prune and help maintain the health of trees. First place winners who received the chainsaw are as follows:
1st Place Overall, Men's Collegiate Division: Bryce Crunkilton, Mid-State Technical College, Wisconsin Rapids, WI
1st Place Overall, Women's Division: Katie Hawkins, Brigham Young University-Provo, Provo, UT
1st Place Overall, Men's Vocational Division: Stephan Moore, Northlands Job Corps Center, Vergennes, VT
The sponsors of the 2013 event included Stihl Inc., Bartlett Tree Experts, The Davey Tree Expert Co., SavAtree, Vermeer Corporation, Bandit Industries Inc., Carolina Tree Care and Schneider Tree Care.