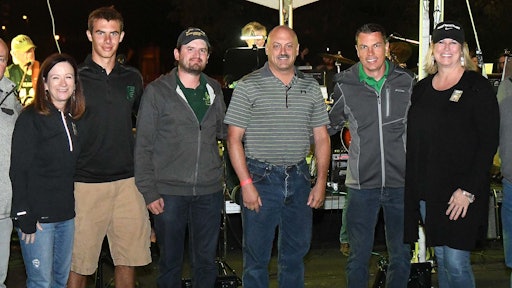 Music and laughter filled the American Legion parking lot in Delano, Minnesota, as hundreds of people attended Band Blitz II, a fundraiser in support of Project EverGreen's GreenCare for Troops, the national program that provides complimentary lawn care and landscape services to eligible families of actively deployed military personnel.
Throughout the evening, local bands took the stage to entertain and share the program's message. Nearly $20,000 was raised through tickets sales, food and beverage sales, sponsorships, and raffle ticket sales for chances to win Toro power equipment to help grow the program and assist more military families in need of these services. A portion of the proceeds was donated to the Delano American Legion.
The event was emceed by Dick Jonckowski, long-time announcer for the University of Minnesota and state high school sporting events. Minnesota State Representative Joe McDonald read a proclamation from the state House of Representatives honoring GreenCare for Troops day in Delano.
Local GreenCare for Troops volunteers attending the event included Elliot Anderson of Elliot's Lawn Service, William Krammer of Krammer's Lawn Care & Snow Removal, Brad Dahl of BTSA LLC and Nathan Newlands of Spring Touch Lawn & Pest Control.
"Thriving lawns, trees and landscapes go beyond the aesthetics; they are an integral part of the social fabric of a community, and provide a safe yard for kids to play and a serene environment for military families to de-stress," says Cindy Code, executive director of Project EverGreen. "Our volunteers enjoy providing the gift of green spaces to military families in their time of need. It's the best way they know to give back to our nation's military who have done so much for us."
Bands playing during the event included Little Chicago, West Highway and a special appearance by former members of the Delano River Band.
The fundraiser was supported by local companies: The Toro Company, CorTrust Bank, HJ Development/Delano Crossing, Gardner & Gardner Communications, GIE Media, Gary Janisch, Kevin Max/Ameriprise Financial, Alex Roeser/American Family Insurance, Calbrandt Inc., Dave and Kelly Jaunich/Exp Reality, Weed Man Lawn Care Twin Cities, Otto Transfer, Growing Opportunities, Delano Herald Journal, Delano American Legion, Performance Marketing, Randy's Environmental Services, Unhinged Pizza and Third Street Brewhouse.
Plans are already under way for Band Blitz III, which will be held at the Delano American Legion on Saturday, September 7, 2019.
Headquartered in Cleveland, Ohio, Project EverGreen is a national non-profit committed to bringing people together to make a difference in how yards, parks and communities create a greener, healthier, cooler Earth by supporting the creation and revitalization of managed green spaces that result in healthier, happier people. Additional Project EverGreen initiatives include GreenCare for Troops, SnowCare for Troops and Healthy Turf. Healthy Kids.