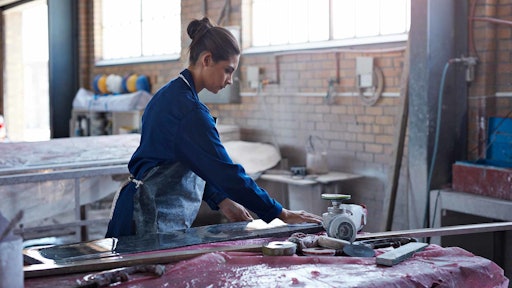 Gallup
Manufacturing has a critical shortage of skilled workers -- more than 2 million are needed now, and the problem is getting worse. But very few women are rushing to fill the gap.
Just 29% of manufacturing's labor force is female, including only 7% in middle-skilled jobs.
That's not because women don't want to work in manufacturing -- among those who do, more than 70% say they'd stay in manufacturing if they were to start their career today, according to a Manufacturing Institute study, and 42% would encourage their daughter or a female family member to work in the industry.
The industry has responded to the labor shortage with initiatives to recruit more women -- including job boards, industry events and training programs -- making the case that women can find a career in manufacturing to be incredibly fulfilling and rewarding. Which is verifiably true. But those 2 million jobs remain unfilled.
Recruiting women in manufacturing might be more successful if leaders approached the problem in reverse: Instead of telling women what manufacturing offers them, learn what women want from manufacturing jobs.
Gallup research shows that effective recruitment in any industry begins with drafting an employee value proposition that offers what matters most to the workers you want. According to Gallup's Women in America: Work and Life Well-Lived report, the two most important workplace factors for women are the ability to do what they do best and work-life balance.
Gallup expertise can help leaders put those principles to practice before their labor shortage turns into a business crisis.
For more on the solution to the manufacturing worker shortage click here.