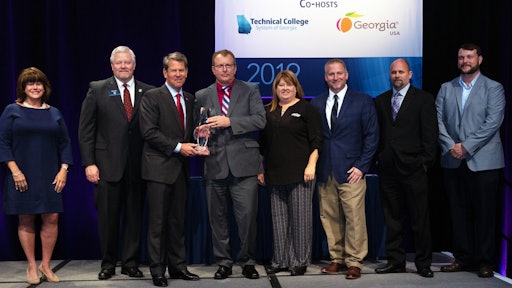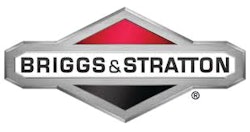 Briggs & Stratton Corporation was recently named as the 2019 Medium Manufacturer of the Year in Georgia.
The award was announced by Georgia Gov. Brian Kemp during the Governor's Awards Luncheon on April 18. The company was the winner of the of the 2019 Manufacturer of the Year award in the category of Medium Manufacturer with 151 to 500 employees. 
Criteria for the awards included economic impact, community involvement and corporate responsibility, and commitment to workforce development and excellence. 
"Briggs & Stratton has been a great industry partner for many years, and we are so proud for them to receive this honor," said Lori Durden, president of Ogeechee Technical College, who nominated Briggs and Stratton for the honor.
Gov. Kemp noted during his keynote address that companies such as Briggs & Stratton, "have created jobs, proven their commitment, and are critical to our state's prosperity."
"Today we honor some of the best, most advanced manufacturers who have been thriving here in Georgia for years," he said.
The Briggs & Stratton facility has been in operation since 1995 and employs approximately 430 people at the facility.
"About a year and a half ago, we began work on our Vanguard program," said plant manager James Suchovsky. Briggs and Stratton produces gasoline engines for outdoor power equipment, including the newest line of its V-Twin Vanguard engines.
He said Bulloch County and state leaders helped ensure the Statesboro plant "would be the place to make what we needed to." 
Human Resource Manager Amanda See said Briggs & Stratton's success could not have happened without the support from our Ogeechee Technical College and Georgia Quick Start.
She said Quick Start has always helped Briggs & Stratton with training plans to ensure the employees have the skills needed to make engines.
"We look forward to many years of collaboration with Quick Start," See said.
Previously, Quick Start partnered with Briggs & Stratton in training projects in 1994, 2002 and 2013.
The Statesboro facility began operation in 1995 and is the largest manufacturing employer in Bulloch County's Gateway Industrial Park. The company recently moved production of its V-Twin Vanguard engines from a joint venture partnership in Japan that created nearly 100 new jobs at the Statesboro facility.
Briggs & Stratton and its employees have been one of the largest financial supporters of the United Way in Bulloch County and employees provide leadership on various business and civic boards, including Leadership Bulloch and Kiwanis Club. 
Other winners included P&G Albany  in Albany, Ga., which won the Large Manufacturer category, and Erdrich USA Inc. from Dublin, which won the Small Manufacturer category.
This year's sponsors for the luncheon and awards included the Georgia Association of Manufacturers, the Georgia Manufacturing Extension Partnership with the Georgia Institute of Technology, Georgia Power, and Aprio.