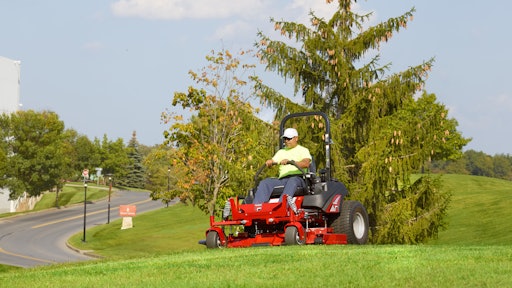 For the fourth consecutive year, the Equipment Dealers Association (EDA) awarded its gold level award to Briggs & Stratton Corporation for its Ferris commercial mower products.
"The exceptionally high ratings in all categories affirm Ferris's commitment to providing extraordinary care to dealers and professionals," Dan Roche, marketing director — commercial products said. "Commercial landscapers expect high-quality, innovative mowers, parts and dealer support from Ferris. We are committed to caring about their needs by providing performance, productivity and durability."
This year, 2,516 individual dealer contacts from across the U.S. and 10 Canadian provinces participated in EDA's detailed dealer-manufacturer relations survey.
Every year, dealers are asked to rate manufacturers on a scale of one to seven, one being extremely dissatisfied and seven being extremely satisfied. The companies whose product they represent are grade in 12 different categories including ranging from product quality and availability to marketing and advertising support. Gold status is awarded to those companies who receive exemplary ratings from dealers in their manufacturing classifications.
"We are really excited to see dealers take note of Ferris's ongoing commitment to enhancing its dealer support," said Roche.
EDA members recognized Ferris's exceptional product quality, saying they are more than satisfied with the performance and built-to-last construction in the parts quality category. Also members noted improvement in warranty procedures and payments.
Finally, respondents gave high marks for the overall support that Ferris provides, specifically, manufacturer response to dealer needs, communication with management, and marketing and advertising support. Ferris dealers have access to an interactive support page for 24/7 help.
Those interested in becoming a Ferris dealer can find more information by visiting ferrismowers.com, then clicking on the "Support" and "Become a Dealer" tabs.